China again hikes banks reserves requirements, fifth time this year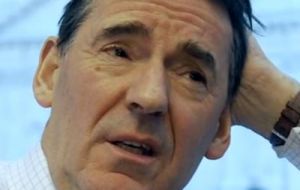 In an attempt to cool inflation China's Central bank raised banks' reserve requirements for the fifth time this year. The half-point increase takes effect May 18 and will boost levels for China's biggest lenders to a record 21%.
However analysts believe Chinese policy makers will raise borrowing costs only once more this year, after four increases in the past seven months. Goldman Sachs Group Inc. and Deutsche Bank AG anticipate higher interest rates may damp growth while also attracting speculative capital, or "hot money," to the fastest-growing major economy. Alternative tools include quicker gains in the Yuan, as demanded by the US and other trade partners of China.
Goldman analysts said officials may allow the Yuan to keep climbing against the dollar at a 6% annual pace. The currency traded Friday at 6.5013 per dollar in Shanghai.
The central bank raised reserve requirements a day after reports showed inflation and lending exceeded economists' estimates in April, with consumer prices rising more than 5.3%. The same batch of data showed industrial output growth slowed, suggesting that the nation's expansion may be cooling from a 9.7% annual pace in the first quarter.
Accelerated gains in the Yuan saw the currency break 6.5 per dollar for the first time since 1993 on April 29. US Treasury Secretary Timothy Geithner pushed at bilateral talks in Washington for a faster appreciation that he says would boost consumption in China, ease inflation and limit global economic imbalances.
Alongside monetary tools, the government has used administrative measures. This month, the National Development and Reform Commission said Unilever, the world's second-largest consumer-goods maker, will be fined 300,000 US dollars for telling the media that it planned to raise prices, reportedly triggering panic buying and hoarding.
Jim O'Neill, who chairs Goldman Sachs Asset Management and coined the acronym BRIC for the economies of Brazil, Russia, India and China, said that China's inflation "won't be a problem" in the second half of this year.
The Central bank decision locked up about 370 billion Yuan (57 billion USD), according to Barclays Capital.
The ruling Communist Party aims to prevent increases in food and housing costs from fuelling social unrest. Consumer prices jumped 5.4% in March, the most since July 2008. In April, the gain was 5.3%.
Clothing costs climbed 1.4% last month from a year earlier, the biggest gain since 1997, a statistics bureau report showed this week. Non-food inflation held at 2.7%, the fastest pace in at least six years. Food inflation, the biggest single driver of the consumer-price index, exceeded 11% for a third month.