Sarkozy: no support for EU/Mercosur trade deal that cuts farmers' income
Monday, May 16th 2011 - 03:24 UTC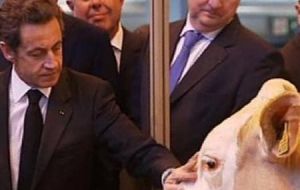 French president Nicholas Sarkozy stressed over the weekend he would not accept an European Union-Mercosur trade agreement that could mean a loss of income for European farmers.
"I can't accept and I won't accept" such an agreement said Sarkozy during a visit to the north of France, adding that farm produce from Mercosur does not comply with the same norms that are demanded from European farmers.
Sarkozy said he favoured free trade but on similar conditions, and pointed out that "why should we accept produce that does not comply with the set of norms and regulations imposed on our farmers?"
Further on he mentioned recent reports from EU farm lobbies and endorsed by the EU parliament which indicate that a trade agreement with Mercosur could mean a 20% to 25% fall in income for farmers and "I imagine Mercosur country members must understand there must be a limit" to such losses.
According to a recent assessment from the European Commission released last month, a free trade agreement with Mercosur, --negotiations for which begun eleven years ago and where only re-launched in May 2010--, would be globally beneficial for the European Union, although it would mean losses for agriculture and the farming sector.
Following on the last round of negotiations in Asunción, Paraguay the first week of May, the following round is scheduled for July 4 to 8 in Brussels, when both sides should begin addressing the very sensitive issue of market access.