Moyano ignores threats: "as far as I know, Cristina is running for re-election"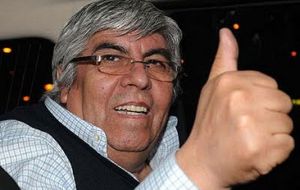 Argentina's organized labour chief Hugo Moyano further escalated the controversy with the government saying he supports President Cristina Fernandez de Kirchner re-election next October and cautioned that she is the only candidate he has vowed to back.
"As far as I know, Cristina is running for re-election. I never heard Cristina is not running and I'm considering no alternatives to that" said Moyano on Tuesday during a conference with the students of the Universidad de Palermo in Buenos Aires.
Moyano also rejected the notion that he is "a vote-killer" and assured that he is not interested in being Cristina Fernández de Kirchner's running mate since he is "either number one or nothing."
"I'm not good at being a number two. I'm either number one or nothing," he said, adding that even though he used to be a lawmaker in the Buenos Aires province", he didn't enjoy being in office.
"I wasn't a fan of debates. I was just there, waiting for my term to finish. An office in the Executive branch is different. So far I'm not really interested, although I can't be sure of what will happen tomorrow" the leader of Argentina's powerful Labour Confederation emphasized.
Expectations before Moyano's conference were high since it was believed that the union leader would comment on President Cristina Fernandez speech last week criticizing the unions as "corporate organizations" that appeal to "extortive" methods and threatening not to bid for re-election.
He made it clear before hand that he would not be making any statements about it or the fact Mrs Kirchner warned she "was not dying to be president again" and would not tolerate "extortions, blackmailing or being pushed around".
He replied, however, to Salta's re-elected Governor Juan Manuel Urtubey, who repeated what he said during his victory speech describing Moyano was "a vote-killer."
"I wasn't a candidate in Salta. If I ever run there, we'll see how much of a vote-killer I am" he expressed.
Moyano also blasted former caretaker president Eduardo Duhalde, calling him a "garden gnome."
"I had a good relationship with Duhalde, but then he decided to go all Rambo on me and began calling me a paper tiger. Well, I don't want to be disrespectful, but he's a garden gnome," he said.
"He just thinks he'll be able to score some political points by attacking me," he said.
Moyano told the crowd of students that he doesn't see himself as a powerful person, and rejected the notion that he is "powerful."
"If I was powerful, I would change a few things," he expressed.
Moyano also strongly rejected an insistent version indicating that he had a serious recriminating discussion on the phone with former president Nestor Kirchner the night before he died. "Those rumours are intentional fabrications and pack of lies, there was no such strong exchange or conversation".
The union leader was also defiant when asked about the indictments of members of his union on charges of "embezzlement" against the state as drug suppliers of the teamsters' healthcare insurance, better known as the medicine mafia for running a distribution ring of fake drugs.
"I'm not at all scared, please. I'm absolutely in peace with my mind. Let Justice do its work, they have nothing against me. I'm in peace with God and my soul", said Moyano.
Precisely last Monday President Cristina Kirchner went on national television to announce a plan to closer regulate and monitor private medicine schemes and unions' health insurance plus the traceability of very expensive drugs (oncology, haemophilic and HIV). Some of these fake drugs were part of the 'medicine mafia' scheme in the teamsters union currently under judicial investigation.