Pillars of Argentina's productive model and re-industrialization process are "solid"
Thursday, May 19th 2011 - 17:08 UTC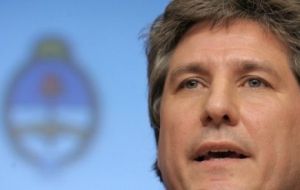 Economy Minister Amado Boudou said that the pillars of the 'productive model' and re-industrialization process implemented by the Argentine government are solid consolidating social inclusion and distribution.
Boudou made the statements following a meeting with Argentine Industrial Union, UIA, leaders who set out a list of demands including competitiveness (foreign exchange rate), prices, salaries and the need for additional financing.
The meeting was part of the social dialogue President Cristina Fernández de Kirchner is sponsoring and enabled the Minister and UIA authorities to also exchange ideas on current issues related to the need for a new labour risks law and the bilateral trade relationship with Brazil.
Boudou said that businessmen from all manufacturing sectors made requests for the creation of a Development Bank and long-term loans. However he recalled that there is already an financial tool "the loans of the Bicentenary Funds, that work as platform to keep on moving forward to larger levels of financing".
The minister highlighted the points in which there were coincidences with the UIA leaders like the need to seek a better land and income distribution given the current levels of growth and production in Argentina.
When Boudou was asked about the hike in prices (inflation) he said "we have to increase the supply of goods and services and achieving that investment is key and a very important topic shared to be addressed both by Government and the UIA".
He added Argentina is achieving a 22% of GDP level of investment, which is significant, historic but which together with UIA we must keep increasing" added Boudou.
UIA president textile businessman José Ignacio de Mendiguren said that "the exchange rate is one of the economic policies tools", but is not the only one. He added that "modifying the exchange rate without solving other issues such as lack of competitiveness, cost infrastructure, is a mirage that only achieves a temporary advantage that prices rapidly eat up."
Mendiguren also stated that his fellow UIA members expressed their concerns regarding Argentina's rapidly eroding competitiveness, because of heavy costs, particularly when exposed to the foreign provision of goods in the domestic market".
On Wednesday President Cristina Fernández met with leaders from the public and private banking sector. The two main topics discussed in the meeting where the expansion of credit for production sectors and the search for new instruments that allow small and medium-sized businesses access to credit.
During the meeting at Government House, the creation of a work force in coordination with the Central Bank was suggested in order to continue finding ways to lower interest rates and stimulate credit, government sources reported.
Cristina Fernandez Fernández de Kirchner met with the head of the Argentine Capital Private Banks Association (ADEBA), Jorge Brito, and the president of the Argentine Banks Association (ABA), Claudio Cesario. Also present in the meeting were the head of the Nación Bank, Juan Carlos Fabrega and the president of the Specialized Banking Association (ABE), Gregorio Goity.