Spaniards take to cities' plazas and call for a protest no-vote in Sunday's local elections
Saturday, May 21st 2011 - 09:56 UTC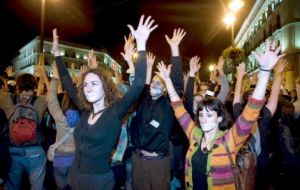 Tens of thousands of Spaniards angry over unemployment protested for a sixth day, ahead of Sunday's local elections in which the ruling Socialists are expected to suffer heavy losses.
Dubbed "los indignados" (the indignant), demonstrators have filled Spain's city plazas in a wave of outrage over government austerity measures, marking a shift after years of patience over a long economic slump.
Witnesses said at least 20,000 people packed the Puerta del Sol plaza in the heart of Madrid and more were pouring in, challenging a law against political events on the eve of elections, which goes into effect at midnight.
The Supreme Court upheld the ban on demonstrations, but police are not expected to enforce it and provoke clashes that would hurt the Socialists.
"To resolve one problem the police shouldn't create another problem" Interior Minister Alfredo Perez Rubalcaba told reporters.
Prime Minister Jose Luis Rodriguez Zapatero, who has failed to contain the highest unemployment in the European Union at 21.3% and over 45% for the 18/24 age group, said he respected the protesters, also signalling an unwillingness to crack down on the movement.
Protesters have called on people not to vote on Sunday for the two main parties, the Socialists and the centre-right opposition Popular Party. Spaniards elect 8,116 city councils and 13 out of 17 regional governments on Sunday and the Socialists are expected to suffer major losses.
Spain has struggled to emerge from a recession. The collapse of the construction sector and a slump in consumer spending has hit the young particularly hard.
Voters are expected punish the Socialists over their handling of the economic crisis and the protests will make things even harder for Rodriguez Zapatero, said Jose Juan Toharia, president of Metroscopia pollsters. "There will be an authentic cataclysm for the Socialists, who are going to head into general elections next year without a single stronghold," Toharia said.