Next RN Ice patrol in Portsmouth; in June she becomes HMS Protector
Monday, May 23rd 2011 - 15:57 UTC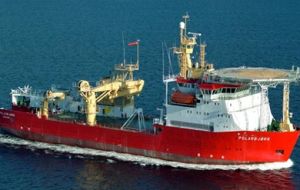 The next Royal Navy Ice patrol vessel is expected this week in Portsmouth where she will be taking over the navy's Antarctic mission in November following the accident suffered by HMS Endurance in 2008.
Icebreaker MV Polarbjorn will enter Portsmouth under the Norwegian flag and will be officially named HMS Protector on June first and commissioned into the Royal Navy fleet on June 23.
She will be responsible for the navy's Antarctic ice patrol duties while the future of HMS Endurance, which suffered major flooding off Chile in 2008, is considered by the Ministry of Defence.
The ship, which was built in 2001 as an Antarctic research ship, has undergone a refit involving the repositioning of the flight deck from the bridge roof to the stern, the installation of a multi beam echo sounder survey system, an overhaul of the main engines and gearboxes and the addition of naval insignia.
The name Protector has a historic connection with Britain's Antarctic commitment as it was the name of the ship which preceded the Endurance.
Protector will carry out all the functions of an Antarctic patrol ship involving close links with the Foreign and Commonwealth Office, the UK Hydrographic Office and the British Antarctic Survey