CFK ratified her administration's economic policies before Mexican business elite
Monday, May 30th 2011 - 05:51 UTC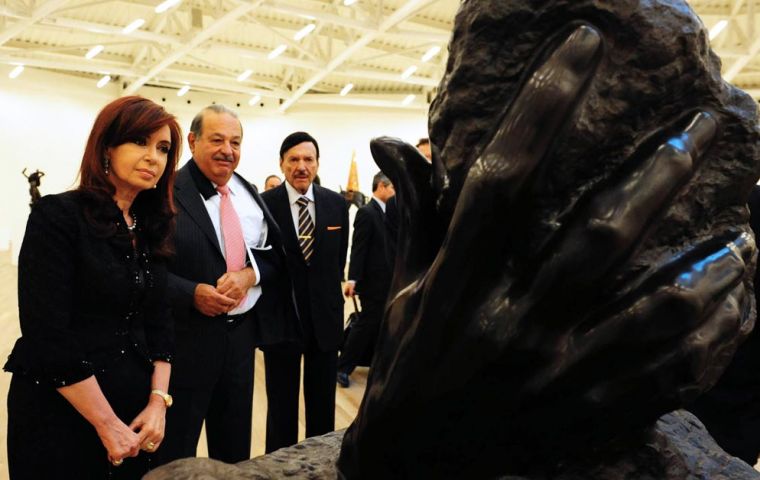 Argentine president Cristina Fernandez de Kirchner ratified before Mexican businessmen that her government will continue to advance the current 'development inclusion model' with strong policies in support of the domestic market and exports with added value.
CFK addressed a special reception in her honour with leading Mexican corporate bosses hosted Sunday evening by the Mexican billionaire Carlos Slim, rated the wealthiest man on earth, in the Suomaya Museum.
Mrs Kirchner arrived Sunday to Mexico City for a two day official state visit that begins Monday with a private meeting with Mexican President Felipe Calderón.
"The strong performance of our domestic market has enabled us a social inclusion element which puts Argentina at the head of Latin America in equality terms", said the Argentine president, who admitted "we still have inequality, but less than in the rest of the continent".
CFK underlined the decision from her deceased husband and former president Nestor Kirchner who together with most of the continent's leaders decided "not to join the Free Trade Association of the Americas sponsored by the United States back in 2005.
"We believe as a region that not to join FTAA in 2005 was a wise decision, which we consider would have been terrible for our region if we had done so", insisted CFK.
In 2005 Mexico supported the FTAA and most corporations in the country have very close links with the US, which absorbs almost 95% of Mexico's exports.
CFK also mentioned two decisions by former President Nestor Kirchner that she considered pivotal for the recovery of Argentina: restructuring the country's foreign debt and cancelling all debts with the IMF.
Host Carlos Slim who welcomed Cristina Fernandez said that his experience as businessman in Argentina has been 'very positive'.
The telecommunications tycoon recalled the early decade years "when we came across very difficult times" following the melting of the Argentine economy in 2001.
"But now we see Argentina growing at rates that are really impressive and generate envy. Argentina is expanding at extraordinary rates, the purchasing power of the people has increased, the domestic market has doubled in recent years and it has been really surprising how the situation has transformed completely compared to what we saw when we first invested in Argentina", added Slim who owns cellular phone companies in Argentina and other Mercosur member countries.
The Argentine president arrived at the Soumaya museum built by Carlos Slim to the memory of his wife together with Foreign Affairs minister Hector Timermann; Federal Planning minister Julio De Vido and Agriculture minister Julian Dominguez.
Mrs. Kirchner visit was originally scheduled for April, but it had to be postponed because of health problems.
CFK is scheduled to meet President Calderon Monday at the official Los Pinos presidential residence and will later have lunch at Chapultepec Castle. The agenda includes signing several agreements on trade, education and cooperation in several fields plus discussions on regional and global policies.
Trade between Argentina and Mexico soared by three times from 2003 to 2010 and now stands at over three billion USD. Argentina is concerned because the trade deficit in 2010 was 600 million USD and this year is running at a similar rate.
Automobiles and industrial products account for about 75% of Argentina's exports to Mexico, while grains and food products represent 14% and raw materials account for the remainder.
From Mexico on Tuesday the Argentine president flies to Italy for the celebration of the 150th unification anniversary, a special guest of PM Silvio Berlusconi, and later to the international Venice art show.