New Falklands' British Forces commander played key role in UK 2009 floods' rescue operations
Monday, May 30th 2011 - 14:32 UTC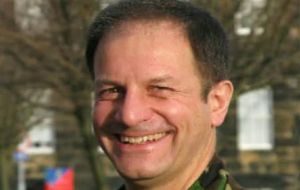 The man appointed new Commander of the British Forces South Atlantic Islands to be stationed in the Falkland Islands, is the soldier who oversaw the bridge building in Cumbria following the United Kingdom's devastating floods in November 2009.
Brigadier Bill Aldridge, the most senior soldier in the north west of England, was in charge of the region's military response to the crisis. He described the operation to reunite the town of Workington via a military footbridge as one of the brigade's most important achievements of recent times.
He said: "The manner in which we were able to assist in the county's recovery has been particularly rewarding."
Brigadier Aldridge has been in post as Commander of 42 (North West) Brigade since September 2008, during which time he has overseen the deployment of reservists from the region to Iraq, Cyprus and Afghanistan.
"The reception we got there was fantastic, in fact I have always been bowled over by the level of support that the army enjoys from people across the north west; something that is partly exemplified by some 18% of the army's recruits coming from the region last year."
As Commander of British Forces South Atlantic Islands (BFSAI), Brigadier Aldridge will oversee people and assets from the Royal Navy, Army and Royal Air Force, ensuring that UK Forces in the region are manned and equipped to fulfil their mission.
"My new role in the Falkland Islands has a very real and present military mission and lies at the end of an extremely long communications and supply chain," he said. "It will be a great challenge, but such challenges are the reason I joined the army."
The MoD at Mount Pleasant has yet to formally announce the departure of current CBF Commodore Phillip Thicknesse. (PN).-