Blatter denies FIFA crisis, admits 'great image damage' by corruption allegations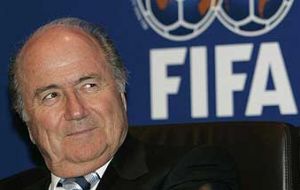 Sepp Blatter has insisted that Fifa is not in crisis, despite the "great damage" done to its image by ongoing corruption allegations. "Football is not in a crisis, only some difficulties," said the Fifa president.
Blatter brushed off suggestions, from the British government among others, that Wednesday's presidential election - for which he is the only candidate - should be suspended.
"If governments try to intervene then something is wrong," he said. "I think Fifa is strong enough that we can deal with our problems inside Fifa."
Blatter, unusually appearing alone at a news conference in Zurich, gave a defiant display despite the storm surrounding the organisation.
But he ended the news conference in an angry exchange with a German reporter and talked of his time working as a journalist, complaining about a lack of "respect" from some members of the media, warning them: "We are not in a bazaar; we are in Fifa's house."
The 75-year-old Blatter insisted that a Football Association inquiry by barrister James Dingemans QC looking into ex-FA and bid chairman Lord Triesman's claims of alleged Fifa impropriety had "found no elements" which would prompt the world governing to investigate further.
This despite Dingemans' report revealing that Fifa executive committee Nicolas Leoz's aide had asked for the FA Cup to be named after the Paraguayan Exco member, who Triesman claimed in Parliament, had demanded a knighthood from England's 2018 bid.
But Blatter argued neither governments nor anyone outside the Fifa membership could have any bearing on the election process, and vowed to carry on unless Wednesday's congress decided otherwise.
"If somebody wants to change something in the election or in the congress of Wednesday, these are the members of Fifa," he said.