China: Yuan at record high against US dollar; Power shortage and higher prices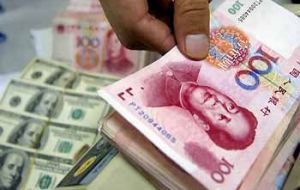 China's Yuan has hit a record high against the US dollar after the US Treasury department said the Chinese currency was undervalued but not manipulated. The People's Bank of China (PBOC) fixed the Yuan's mid-point at 6.4856 against the US dollar on Monday.
China has been accused by the US and other developed economies of keeping the value of its currency artificially low to boost its exports. The US and other major economies have said that China's policy of keeping the value of its currency low gives an unfair advantage to its manufacturers.
There have also been concerns that China's currency policies have also been responsible in part for big trade imbalances with its trading partners.
There have been repeated calls in the US to label China a currency manipulator, given Beijing's currency policies and reluctance to let the Yuan trade freely.
China however has maintained that while it is willing to allow the Yuan to appreciate, its pace has to be gradual. It said that a sudden rise in the Yuan will not only be detrimental to its export sector but will also have a negative impact on the overall economy.
In its report released on Friday, the US Treasury Department said that although China's currency was undervalued, the country was not a currency manipulator.
In an attempt to show its intent on letting the value of its currency rise, China loosened its peg to the US dollar in June 2010. The Yuan has gained more than 5% against the dollar since then.
However the US Treasury report said that the rise has not been up to their expectations. "Treasury's view… is that the progress thus far is insufficient and that more progress is needed."
China has raised electricity prices for industrial, agricultural and commercial users in 15 provinces as the government grapples with a large power shortage. The new tariff will see users paying an average of 1.67 Yuan (0.25 USD9 extra per MW hour, according to the official Xinhua News Agency. This is the first time China has raised electricity prices since November 2009. The new tariffs will take effect from 1 June.
China has witnessed tremendous growth in the past few years and is now the world's second-largest economy. However while demand for electricity has increased substantially, supply hasn't increased to match it.