Germany plans to shut all nuclear reactors by 2022 and double renewable energy to 35%
Tuesday, May 31st 2011 - 08:18 UTC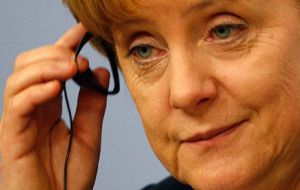 Germany plans to shut all nuclear reactors by 2022, Chancellor Angela Merkel's ruling coalition announced Monday, in a policy reversal drawn up in a rush after the Fukushima disaster in Japan.
The coalition, sensitive to accusations it may increase dependence on highly polluting brown coal, said it planned to cut power use by 10% by 2020 and double the share of renewable energy sources to 35%.
Merkel's bid to outflank the opposition smacks of opportunism to many Germans but could ease an alliance with the anti-nuclear Greens that may be her best bet to stay in power. Polls clearly show that most Germans dislike nuclear energy.
In nine months, Merkel has gone from touting nuclear plants as a safe "bridge" to renewable energy and extending their lifespan to pushing a nuclear exit strategy that rivals the ambitions of the Social Democrats and Greens.
Her change of heart coincides with a string of disastrous election results for her Christian Democrats (CDU) and their Free Democrat (FDP) allies that have been partly blamed on her unpopular pro-nuclear policy so far.
"I don't think she will take many votes from the Greens, who have promoted this issue for decades," said Carsten Koschmieder, a political scientist at Berlin's Free University
"But with the FDP so weak and Merkel looking for other allies, who might be the Greens, the atomic issue was the main obstacle that needed to be removed," he said.
Merkel may be hard pressed to sell the plan as anything but a political defeat at the hands of her Social Democrat (SPD) and resurgent Green rivals. Tens of thousands of people demonstrated against nuclear energy at the weekend all across Germany.
The proposal, which quickly came under fire from abroad, may be even more ambitious than the plans of the SPD and Greens, taking 8 of 17 nuclear plants offline now and 6 more by 2021.
However the most drastic decision by an industrialised country after Fukushima could still face opposition from utility firms.
Only nine months ago Merkel announced an extension of the lifespan of unpopular nuclear plants by an average 12 years. In March, after Japan's earthquake and tsunami, she reversed that and put Germany's entire energy strategy under urgent review.
"Our energy system has to be fundamentally changed and can be fundamentally changed. We want the electricity of the future to be safer and, at the same time, reliable and economical," Merkel told reporters on Monday.
Most voters in Germany oppose atomic energy, which provided 23% of overall power before the seven oldest stations were shut down in March.