Falklands Task Force flagship arrives to scrap-metal yard in Turkey
Wednesday, June 1st 2011 - 16:33 UTC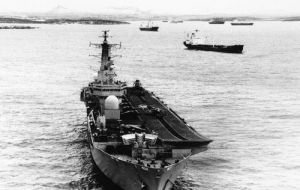 HMS Invincible the flagship of the Task Force that recovered the Falkland Islands in 1982 and later served in Bosnia in 1995 and Iraq in 1998 and 1999 has reached her final resting place: a recycling yard in Aliaga, heart of the Turkey's ship-breaking industry.
According to reports in the UK media after she was decommissioned in 2005, HMS Invincible fate became a hot topic in the maritime world, ranging from plans to turn the vessel into a Chinese tourist attraction to a campaign to convert her into a floating helicopter pad off the Cumbrian coast.
Despite campaigners' best efforts to keep Invincible close to the Barrow shipyard where she was built 30 years ago, the Ministry of Defence accepted a £2m bid from Turkish ship-breakers Leyal Ship Dismantling and Recycling Ltd.
The carrier will be melted into thousands of one metre square blocks of steel and shipped off to other European countries to be used for a variety of new products – from garden chairs to razor blades. The dismantling process is set to take between six to eight months.
Ship-breaking is a growing industry in Turkey, with around 20 yards currently in operation. Last year, the yards recycled 237 vessels, compared to 127 ships in 2009.
Despite bids to prevent Invincible being sold for scrap, many in the ship recycling industry feel dismantling decommissioned vessels is more sustainable to the environment than sinking elderly tonnage at the bottom of the sea and producing new steel by depleting natural resources.
Leyal's Dimitri Ayvatoglu said: "More vessels are being offered for recycling. I think people are becoming increasingly aware of their options for green recycling.