Bernanke admits US recovery is "frustratingly slow", but will gain speed in second half
Wednesday, June 8th 2011 - 23:38 UTC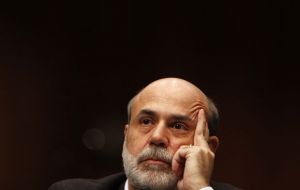 US Federal Reserve Chairman Ben Bernanke said the "frustratingly slow" US recovery warrants sustained monetary stimulus while predicting that growth will gain speed in the second half of the year.
"The economy is still producing at levels well below its potential; consequently, accommodative monetary policies are still needed" Bernanke said in a speech in Atlanta. At the same time, the Fed "will take whatever actions are necessary to keep inflation well controlled," he said.
Bernanke said US consumer spending is being held back by an unemployment rate that rose to 9.1% last month, a drop in home values and tight credit. Growth is likely to pick up as fuel prices moderate and factory disruptions ease as factories in Japan recover from an earthquake and tsunami, he said.
"Overall, the economic recovery appears to be continuing at a moderate pace, albeit at a rate that is both uneven across sectors and frustratingly slow from the perspective of millions of unemployed and underemployed workers," Bernanke said.
Bernanke has spurred growth by holding the main interest rate near zero since December 2008 and expanding the Fed's balance sheet to 2.79 trillion USD. The Federal Open Market Committee said in April it will complete a program to purchase 600 billion in bonds this month, a policy known as quantitative easing, and affirmed a pledge to keep interest rates low for an "extended period."
William C. Dudley, president of the Federal Reserve of New York and vice chairman of the FOMC, said in a separate speech that "the recovery remains distinctly sub-par in spite of aggressive monetary and fiscal stimulus."
Bernanke and Dudley both said lawmakers should rein in budget deficits to ensure long-term growth without cutting back so quickly as to choke off the recovery.
"Establishing a credible plan for reducing future deficits now would not only enhance economic performance in the long run, but could also yield near-term benefits by leading to lower long-term interest rates," Bernanke said. On the other hand, "a sharp fiscal consolidation focused on the very near term could be self-defeating."