Humala calls US a 'strategic partner' and plans to discuss taxes with corporations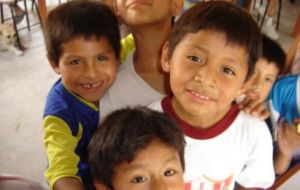 Peru's nationalist president-elect Ollanta Humala said on Tuesday he will chart his own course, described the US as a 'strategic partner' and promised to discuss with mining companies his plans to tax windfall earnings to pay for social programs.
Speaking with foreign correspondents Humala said the United States is a "strategic partner" and anticipated he will work with Washington to control the drug trade in the world's top grower of coca, used to make cocaine.
At the same time, he said he would strengthen relations with countries in South America, he reiterated his interest in Mercosur and admitted Brazil is positioning itself as the region's leader.
The former army officer added that the people he picks to lead the Finance ministry and other key cabinet posts in the fast-growing economy will be experienced.
"They will be honourable, and have experience, in each ministry there will be a commitment to social policy and social inclusion" said Humala.
Earlier in the day a close aid revealed that member of former president Alejandro Toledo were working with Humala's transition team. Toledo helped consolidate the opening of the Peruvian economy and attract foreign investors to the country's vast mineral resources.
But even when Peru's economy boomed over the last decade, a third of its people are still mired in poverty with limited access to drinking water and electricity.
Humala, who has moderated his discourse since he lost the 2006 election running as a radical, said his government would show fiscal prudence, and will not sell sovereign bonds to finance the anti-poverty programs he plans to introduce.
He tried to strike a conciliatory tone about his proposal to introduce a windfall profits tax on companies in Peru's vast mining sector. Those tax revenues would fund social programs. "The tax rate we need to talk about with companies," he underlined.