Spain's objective is sovereignty over Gibraltar, Minister Jimenez tells Parliament
Thursday, June 9th 2011 - 19:42 UTC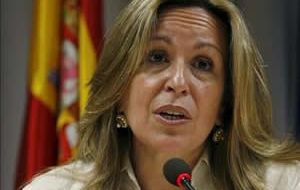 Spain's dealings with Gibraltar have the overriding objective of recovering sovereignty over the Rock, Spanish Foreign Minister Trinidad Jiménez told parliament in Madrid this week.
During a question and answer session, she said added that Spain would only discuss matters relating to the sovereignty of Gibraltar waters with the British Government.
The minister said sovereignty was an "exclusively bilateral" issue between Spain and the UK, adding that any attempt by Gibraltar to become an interlocutor in that context would be regarded as "unacceptable" by Madrid.
Spain would be "inflexible" on this point because any matter related sovereignty "must be discussed exclusively with the United Kingdom" outside the framework of the trilateral forum.
"The policies over Gibraltar have as their sole and principal objective the recovery of the sovereignty," she said.
Minister Jiménez was responding to questions tabled by the opposition Popular Party following a meeting last May between Chief Minister Peter Caruana and the senior Spanish diplomat Bernardino León, who was an architect of the trilateral forum (UK, Spain and Gibraltar).
Their meeting in the San Roque Club was revealed by the Gibraltar Government in a statement and was described at the time as "informal" and given the fact both officials are long time friends. But it came against the background of tension at sea following Spanish incursions into Gibraltar waters.
They discussed possible formulas to avoid such clashes and foment cooperation in the spirit of the forum for dialogue.
For the PP, the meeting between Mr Caruana and León was a "terrible diplomatic error" that allowed Gibraltar to engage in Spain on a sovereignty-related issue in which Gibraltar "had nothing to offer".
Minister Jimenéz said León did not attend the meeting as a representative of the Spanish Government.
"The [Spanish] Government has not ceded anything; neither has it discussed with Gibraltar's authorities matters related to sovereignty".