China and Uruguay sign 17 cooperation accords and 530m USD trade package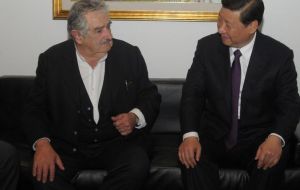 Visiting Chinese Vice-President Xi Jinping signed Wednesday in Uruguay 17 cooperation agreements and trade contracts for the purchase of 530 million US dollars in Uruguayan goods before leaving for Chile the third leg of his tour of Latin America.
The 17 agreements include finance, tourism, science and technology, culture and investment accords with the Uruguayan government and private sector.
President Jose Mujica received Vice President Xi Jinping and his delegation declaring it was an honour to host, even for a few hours, such an illustrious visitor from a country "we have so much to learn from".
Xi Jinping said the meeting with President Mujica was very cordial and with "ample coincidences", and praised Uruguay for its international standing and economic advance in recent years.
The shopping list includes 250 million USD in soy beans that as with neighbouring Mercosur members, is becoming one of the three most important export items for Uruguay together with beef and grains.
Another five contracts refer to purchases of wool totalling 56 million US dollars. China has become the main trade partner for Uruguay's greasy and industrialized wool.
Bone meal (20 million USD), pulp (70 million USD) and dairy produce (12 million USD) complete the list.
Bilateral trade reached 2.63 billion US dollars last year, up 69.3% over the previous year. China is Uruguay's second trade partner only behind neighbouring Brazil.
Uruguay's oil and gas refining corporation Ancap signed a bio-chemistry agreement with China's BBCA and car manufacturer Geely International Corporation agreed with Nordex Uruguay to begin assembling Chinese cars in Uruguay for sale in Mercosur.
Regarding technical and cultural cooperation China granted 30 million Yuan (4.6 million USD) and an interest free loan of 10 million Yuan (1.6 million USD) to promote scientific research, technical formation and teaching mandarin.