"Dilma has the authority to sack the chief of staff and acted at the right time"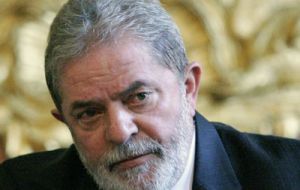 Commenting this week's resignation of Brazilian chief of staff Antonio Palocci in the midst of a political crisis that has shaken Brazil in the past few days, former president Lula da Silva said that Dilma "had the authority to fire the chief of staff and acted at the right time."
Lula da Silva's statements made headlines as the economic sector carefully waits for the repercussions of the scandal.
"It is always distressing to fire colleagues. I had to do it several times, but Dilma has the authority to do so and acted at the right timing" Lula da Silva said referring to Antonio Palocci's defenestration.
About the newly appointed Palocci's substitute, Senator Gleisi Hoffmann, Lula da Silva limited to say that "It's fine; if she was picked by Dilma."
Palocci was one of Lula da Silva's top officials and one of the last party heads remaining in the government after a 2005 scandal brought down most of the Worker's Party leaders.
Palocci has admitted that his personal financial assets have increased 20 times over in four years including the period he already was Rouseff's chief of staff. Palocci is accused of embezzlement for maintain a consultancy firm that supposedly has lobbied for big companies.
Economic minister from 2003 to 2006, Palocci had to leave Lula da Silva's government for violating the bank secrecy of a gardener who testified seeing him in a lobbyist gathering in Brasilia. But he was regarded as one of the last party men standing after the Mensalao scandal wiped out most of the party's heads from the government.
Brazilian President Dilma Rousseff vowed her government would not be "paralyzed" by the resignation of her most powerful minister, hoping to end a crisis that has worried investors and strained her relations with Congress.
Palocci's resignation is Dilma´s first political test. There has been great expectation over her relations with opposition parties, capacity to manage crisis, prospects of governability and how vulnerable if she does not take the initiative immediately.