Colombia signs landmark "Victims Law" to redress victims of internal conflict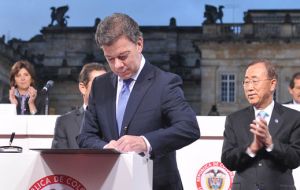 Colombia's President Juan Manuel Santos signed into law Friday a landmark "Victims' Law" aimed at redressing the estimated 4 million victims of the country's long-running internal running conflict.
It marks the first attempt by a country beset for more than a half century by a conflict involving a Marxist inspired guerrilla struggling to topple a government.
The law creates mechanisms for compensating survivors of the tens of thousands of mostly civilians killed since 1985 in Colombia's dirty war. Stolen land is to be returned to hundreds of thousands of displaced.
Santos signed the law in the presence of U.N. Secretary General Ban Ki-Moon.
"Today is a historic day," Santos said of the law he has made the centerpiece of his 10-month-old administration, speaking to a crowd of 600 guests including the military brass, the nation's most senior judges and representatives of Colombia's more than 2 million internally displaced.
"Our country is not condemned to 100 years of solitude," Santos added, invoking the title of the novel by Colombia's literature Nobel-winner, Gabriel Garcia Marquez, which depicts the nation fatalistically as one that can't seem to escape endless cycles of violence.
Authorities say the law will take a decade to implement and cost at least 20 billion. The challenges are immense. The conflict is anything but over, and the CODHES human rights group says say 49 people have been killed since 2002 seeking to reclaim stolen land, eight of them in this year alone.
In a brief speech, Ban Ki-moon praised the law but said the work has just begun and it must produce results.
The number of victims, arrived at by a public registration process, accounts for nearly one in 10 Colombians. And the country remains beset by conflict though the FARC guerrillas hold far less territory than they did a decade ago.
Nevertheless the conflict is far from over: Marxist inspired guerrillas and the paramilitaries devolved into drug-trafficking gangs. Besides, wealthy landowners taking advantage of the situation have extended their holdings at the expense of poor peasants, indigenous groups and Afro-Colombians.
According to the Colombian government owners have lost nearly seven million hectares of land over the past 25 years of armed conflict.
Agriculture Minister Juan Camilo Restrepo said paramilitaries, rebels and drug traffickers had used a mixture of violence and fraud to take control of land, which had made them immensely rich.
Some armed groups - which still occupy much of the stolen land - have already tried to undermine the process. And there are fears that they will respond violently to attempts by the rightful owners or the state to repossess the land.