Argentina's official May 'fantasy' inflation 0.7%; private consultants, 1.5%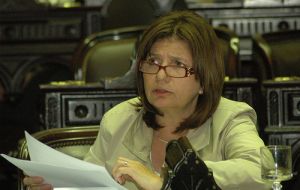 Inflation in Argentina reached 0.7% in May compared to the volume reported in the previous month, the Indec national statistics bureau announced on Wednesday. The official rate is less than half what was presented on Tuesday by opposition lawmakers, which they assured reached 1.5% and 23% in the last twelve months.
According to Indec this means that in the first five months of the year consumer inflation totalled 3.9% and in the last twelve months 9.7%.
Wholesalers' prices reached 0.9% in May against the previous month, and construction-related costs climbed 0.1% during the same period and 6.5% in the last five months. All percentages provided by Indec.
On Tuesday representatives from the opposition made public the inflation rate for May based on the findings of eight economic consultants that have been threatened with fines if they release percentages which do not disclose the "methodology" employed for their elaboration.
On Wednesday afternoon a member of the opposition, lawmaker Patricia Bullrich threw some piquant darts at Domestic Trade Secretary Guillermo Moreno and encouraged him, ironically, to "come over to Congress and fine those opposition lawmakers that dared to reveal inflation rates that differs from that issued by the Indec Statistics Bureau agency."
"Let's see if Moreno dares to come over here and fine us", Bullrich said in clear reference to the fines Moreno extended to those private consultancy agencies that issued inflation rates that revealed a substantial difference with the one published by the government's INDEC.
Bullrich assured that "private consultancy agencies are afraid of being fined again, they are quite afraid of going bankrupt because of the government's retaliation", and added, "That's why we (opposition deputies) decided to deliver the statistics made by private consultants as we have legal privileges and Moreno won't fine us".
To conclude, the deputy said that the cost of living numbers and rates issued by the INDEC "are faked and pure fantasy".
The monthly inflation rate from the private consultants will be delivered by the Freedom of Expression congressional committee, since opposition lawmakers also argued that only releasing official data on inflation is "a violation of freedom of speech and the right to express your mind".