"Self determination and self sufficiency", Falklands message to the world on Liberation Day
Wednesday, June 15th 2011 - 02:43 UTC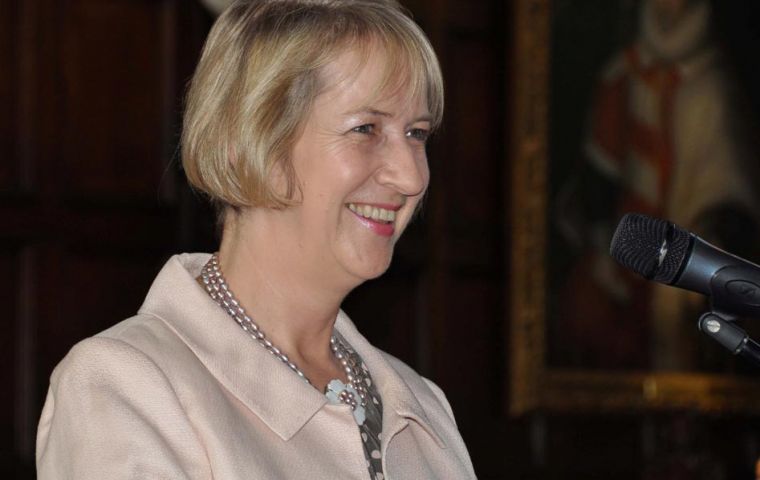 "Self-determination and self-sufficiency" is the Falkland Islands message to the world on the day the Islands commemorate the 29th anniversary of its liberation, said the Falklands' government representative in London Sukey Cameron, who added Argentina continues with its campaign to claim sovereignty and disrupt the Falklands economy.
The Falkland Islands Government held on Tuesday its annual reception at London's Lincoln's Inn that this year had as a special guest of honour Jeremy Browne MP, Foreign Office Minister with responsibility for the Falklands.
Other guests included MPs, Peers, Falklands elected Legislative Assembly Members, former Governors and CBFs, visiting Islanders, Falkland Islands students, FCO and MoD personnel, former Chief Executives, and members of UK-based Falkland Islands groups.
In the traditional June 14 Liberation Day speech Ms Sukey Cameron underlined that the Falklands are entering a crucial period in their economic development, and called on the UK Government to continue to work in partnership with the Island's people in order to create an even more stable economic base from which to grow.
"We intend to build upon our economic successes so that we can maintain economic independence and sustain our quality of life. While economic growth is required for its own sake, it has wider-reaching benefits: with economic strength, we will be less vulnerable to external political pressure and free to determine our future."
A message from Her Majesty the Queen was also read out to guests, which was followed by the Loyal Toast. The Band of the Grenadier Guards then Beat the Retreat.
Follows Ms Sukey Cameron's speech:
My Lords, Ladies and Gentlemen,
It is, once again, a pleasure to welcome you all to our Annual Reception. It is good to see so many friends again.
On this, the anniversary of our liberation we commemorate those who fought to uphold our right to self-determination in 1982. As we continue to do our utmost to ensure that those who made the ultimate sacrifice did not do so in vain, we will also reflect on our successes and our ambitious plans for the future.
Members of the Argentine Government continue to seek international support for their claim to our country, and do what they can to disrupt our economy, but we are dynamic, resilient and resourceful people and will pursue economic development, and determine our future, regardless of the difficulties that may be put in our way.
Whilst we refuse to be de-railed or distracted by others' agendas, it's time for us to be more proactive in respect of our external relationships. We are exploring new ways to deliver our key messages of self-determination and self-sufficiency.
We also intend to build upon our economic successes so that we can maintain economic independence and sustain our quality of life.
Over the last two years we have been preparing our Economic Development and related Tourism and Rural Development Strategies. We are now embracing the challenge of putting these far-reaching plans into action.
The Economic Development Strategy seeks to strengthen and deepen activity in our core industries; fisheries, tourism and agriculture; to nurture new industries in pursuit of a broader, more stable economic base, and to make the Islands a more attractive place in which to invest and develop businesses.
We welcome the opportunities provided under the proposed new Overseas Territories Strategy to forge stronger links with UK Government Departments and British institutions, which will be of great benefit as we seek to implement our economic plans.
At this crucial stage in our development, we are also seeking corporate support and flexibility from Her Majesty's Government. The support we seek is not financial; it is a commitment to work in partnership and develop shared policies to facilitate the Islands' economic development.
There are business and employment opportunities for Falkland Islanders through the provision of support services to the military. As well as fostering economic growth, localisation of these services should reduce contract costs to the Ministry of Defence. Developing shared enterprises with the Ministry Of Defence will also enable us to achieve economies of scale in respect of key infrastructure and services.
Strategic Support from Her Majesty's Government is also sought as we look to develop alternative air and shipping links.
Enhanced air links will enable us to increase the number of visitors to our Islands, which is central to our Tourism Development Strategy. Welcoming more people to our country is also vital as we seek to share our key messages more effectively and promote the Islands' success.
Shipping links are central to the development of our existing industries and to the creation of a more attractive economic environment. Furthermore, with more international trading partners, our sovereignty will be recognised more widely.
While economic growth is required for its own sake, it has wider-reaching benefits; with economic strength, we will be less vulnerable to external political pressure and free to determine our future.
Falkland Islanders are pragmatic people; we know that it would be premature to factor potential revenue from hydrocarbons production into our economic forecasts. Nevertheless, we welcome the increased economic activity arising from continued hydrocarbons exploration. As well as providing a very welcome boost to our economy, data from the thirteen wells drilled over the last year will greatly increase our understanding of the offshore area.
The manner in which drilling operations have been conducted is a credit to all involved. The oil companies and local private sector companies should also be commended for their joint approach to drilling support activities. These partnerships demonstrate a confidence in the Islands' abilities and have enabled the transfer of skills and knowledge to the local workforce.
The past year has also seen successes in other areas of our economy;
The Falkland Islands Meat Company has achieved record levels of exports, and revenue generated bodes well for the future of this industry.
Our wool incomes have also been boosted by a combination of favourable market conditions and the improved quality of our product.
The Illex fishery has had a good start to the year with 93 vessels taking licenses; the highest level of interest for a number of years. We continue to monitor the fishery closely in order to ensure that the stock is renewable; conservation and care for our natural environment – in all areas – is of prime importance to us.
Speaking of the environment, our investment in the Sand Bay Wind Farm has enabled us to achieve one of the highest per capita percentages of renewable energy in the World, routinely around thirty-five percent.
Our investment in education continues to bear fruit; a number of our graduates hold influential positions in both the public and private sectors. Over the last year, the Falkland Islands Government has embarked on a far-reaching programme of career development and succession planning in order to ensure that it is our people who will be governing our country and developing our economy as we strive ever forwards.
Our students continue to make us proud; last year eighty one percent of year 11 students at the Falkland Islands Community School gained at least five A* to C grades – far in excess of the comparable UK figures of sixty nine point one percent.
We are delighted that a number of our students will be representing the Islands in the Island Games in the Isle of Wight later this month, as part of our largest ever team of around fifty competitors. We wish them the very best of luck in their endeavours.
The achievements of our young people will be highlighted next year when, given the thirtieth anniversary of the Falklands War, we shall be promoting the theme of looking forward and focussing on the youth of today.
Next year will, of course, also be one of remembrance, reflection and gratitude and we are pleased that the South Atlantic Medal Association's plans for a permanent memorial at the National Arboretum, to be unveiled in May next year, are progressing and we wish them well in their fund raising efforts to achieve their target.
Ladies and Gentlemen, this is an exciting time as we take some bold steps to shape and secure the Islands' future - thank you once again for your continued interest and support".