Falklands: Argentina deplores PM Cameron's "regrettable act of arrogance"
Thursday, June 16th 2011 - 15:10 UTC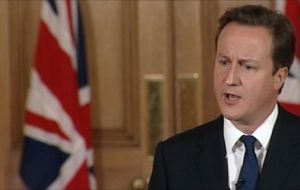 The Argentine Government said it "deplores that, in a regrettable act of arrogance, the United Kingdom claims to have the authority to 'put an end' to the unresolved conflict regarding the Malvinas Islands sovereignty, a case that is currently being recognized by the United Nations."
The release from the Ministry of Foreign Affairs was in response to statements made on Wednesday by British Prime Minister David Cameron before the House of Commons regarding the Falklands/Malvinas sovereignty which he said "is not negotiable; period".
"This position is part of the British Government's constant disregard to the multiple calls by the United Nations and the International community, in which Argentina and Great Britain are urged to remake negotiations in order to find a peaceful solution to the Malvinas Islands sovereignty issue," the statement read.
"The British attitude shows their disregard for international law, an attitude they have maintained as they insist on continuing a colonial anachronistic situation that not only insults Argentina but the entire region, as shown by the multiple expressions of concern expressed by the OAS, the Mercosur, the Summit of Latin American and Caribbean countries and the UNASUR."
The Argentine Government, "as it reaffirms its rights to sovereignty over the Malvinas, South Georgia and South Sandwich Islands and their surrounding maritime space, "insists on its permanent willingness to restart negotiations in order to put and end to this sovereignty claim, as the UN resolutions and the entire international community demand".
Argentine ambassador to the UN, Jorge Argüello, also joined the government's stance saying it was disappointing that British Prime Minister, David Cameron's approach to the Falklands/Malvinas islands sovereignty dispute arguing that it's "worrying and irritating to hear the British Prime Minister confirm what everybody was thinking; also neglecting to abide by UN resolution."
Argüello also restated that Britain's position in the UN's Security Council should be "reconsidered".
"The international community should carefully reconsider the status of countries that continue to form a permanent part of the Security Council; especially those who systematically ignore or violate General Assembly decisions," Argüello said.