"Corruption in Argentina; the mother of all scandals" by The Economist
Friday, June 17th 2011 - 17:02 UTC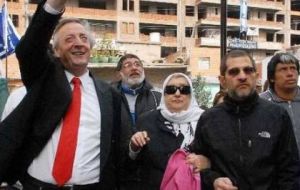 Under the heading of "Corruption in Argentina: the mother of all scandals?", The Economist edition of this week has an article on the controversy surrounding the once-revered human rights group Mothers of Plaza de Mayo.
One of Néstor Kirchner's most popular ideas as Argentina's president in 2003-07 was having members of the country's 1976-83 military dictatorship retried for human-rights abuses. Among his closest allies was the Association of Mothers of the Plaza de Mayo, a group of women who for years defied the generals and staged weekly protests demanding to learn what had happened to their disappeared children. The group's reputation in Argentina has soured, owing to the leftist activism of its leader, Hebe de Bonafini, who has praised the authors of the terrorist attacks of September 11th 2001. But its distinctive white shawls remain a potent symbol of the quest for justice in Latin America.
Now the Mothers have attracted criticism for very different reasons and at an inopportune time for Cristina Fernández, Mr. Kirchner's widow and successor as president. In 2006 they founded a social-work arm, called Shared Dreams, to build homes for the poor. Mr. Kirchner provided an estimated 45 million US dollars of public funds. For the construction work, Ms Bonafini hired Meldorek, a company owned by Sergio Schoklender, a friend and adviser who was jailed from 1981 to 1995 for murdering his parents.
Rival contractors soon complained that Meldorek was charging twice the market rate for homebuilding. The company's workers said it failed to pay pension benefits. Mr. Schoklender called attention to himself by using a private jet and getting Meldorek to buy several luxury homes, a Ferrari and a series of yachts.
Rumors of improprieties at Shared Dreams have swirled for over a year. But they only entered the public eye in May, when Mr. Schoklender left the organization after feuding with his brother Pablo, who also participated in his parents' murder and in Shared Dreams. His departure led the media to pounce on the story. The courts are now investigating allegations of fraud, money-laundering and illegal enrichment. Mr. Schoklender says Meldorek charged more than its competitors because its homes are bigger and better-equipped. His lawyer says there is no proof that the Mothers' money went missing.
So far, the scandal has not dented the popularity of Ms Fernández, who must say by June 25th whether she will run for re-election in October. Pro-government media have painted both the Kirchners and Ms Bonafini as innocent victims of Mr. Schoklender's alleged trickery. Ms Fernández's first presidential bid in 2007 was barely affected by revelations of corruption in the building of gas pipelines during her husband's government. But although Ms Fernández could easily distance herself from the construction companies involved in the gas scheme, she has long sought to wrap herself in the Mothers' shawls. That now risks becoming an embarrassment.