Falklands' "is not negotiable"; UK calls for talks with Argentina on other issues
Saturday, June 18th 2011 - 08:09 UTC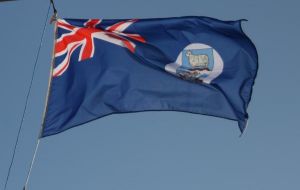 Britain again categorically rejected any Falkland Islands sovereignty negotiations with Argentina and reiterated that London's position on the issue "has not changed at all". However "as has been standing policy", the UK is always ready to discuss issues of common interest in the South Atlantic.
A Foreign Office spokesperson quoted on Friday by the Italian news agency Ansa said sovereignty negotiations will only take place if the people of the Falkland Islands making use of their right to self determination so decide.
The Foreign Office spokesperson statements follow Thursday comments from Argentine president Cristina Fernandez de Kirchner on the campaign trail, who described Britain as "a coarse colonial power in decadence".
The Argentine president added that the latest statements from British PM Cameron (before Parliament) who said that the Falklands sovereignty is not negotiable are nothing but "mediocre fringing with stupidity".
However the FCO spokesperson reiterated that "essentially our position remains the same"
"The Prime Minister only reiterated our long standing position that the sovereignty of the Falkland Islands rests on the people's right to self-determination" said the spokesperson underlining that "as far as the Falklands maintain their interest in remaining as British sovereign territory, they should remain that way", and there is not much more to say about it.
Only a week ago the elected members of the Falkland Islands Legislative Assembly made public a release affirming that "the people of the Falkland Islands have a right to self-determination, enshrined in international law" and as such "fully support the UK government's current resolute position, which confirms that the issue of sovereignty is non-negotiable".
Nevertheless "the Falklands seek nothing more than neighbourly relations with Argentina".
The FCO spokesperson recalled that London has also been consistent in welcoming discussions with Argentina referred to issues of common interests in the South Atlantic, such as fisheries, communications, oil, but not sovereignty, "this is up to the people of the Falklands making use of their right to self determination".
"PM Cameron has not said anything different from what we have consistently said in the past", added the FCO spokesperson
"Argentina is an important partner of the UK and to a great extent. We have a close and productive relation in many areas of bilateral and multilateral issues, including the global economic situation in the framework of G20, human rights, climate change, international development and fighting against weapons proliferation".