Uruguayan lawmakers mark the difference between "terrorism" and "armed insurgency"
Saturday, June 18th 2011 - 01:04 UTC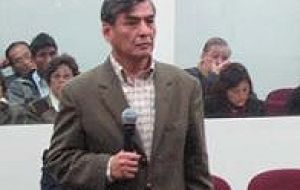 A group of Uruguayan lawmakers have written a letter to Peruvian president-elect Ollanta Humala requesting a more humane treatment for Victor Polay Campos, head of the guerrilla Tupac Amaru Revolutionary Movement, MRTA, jailed since 1992.
The letter was drafted by members from two majority groups of the Uruguayan ruling coalition, which represent former urban guerrilla groups, precisely named Tupamaros, a contraction of Tupac Amaru, recalling an Inca ruler who rebelled against Spanish colonial domination.
In the letter Uruguayan lawmakers and former guerrillas interestingly establish a difference between what they describe as "terrorist actions" and "armed insurgence".
The first case refers to Shinning Path, a Peruvian Mao-Khmer Rouge blend guerrilla of the eighties that killed thousands and caused billions of dollars in losses, finally defeated by the Peruvian Army under command of former president Alberto Fujimori.
The second refers to MRTA involved in actions which are called 'armed insurgency', a confrontation with a constituted elected government with the purpose of changing the country's institutions, but which did not involve "sacrificing human lives and expanding terror".
The letter requests that Polay Campos be transferred from a military garrison to a common penitentiary.
"For some time now we have been concerned about the incarceration conditions of MRTA members. They are going through something similar to what our 'leader-hostages' suffered under the Uruguayan dictatorship (1973/1985)" said Esteban Perez, member of the Movement of Popular Participation to which belongs President Jose Mujica.
"We believe President Humala should improve reclusion conditions of MRTA members and later consider the possibility of an amnesty", added Perez.
During the Uruguayan military dictatorship the nine leaders of the Tupamaros urban guerrillas, were considered 'hostages' and exposed to exceptional reclusion conditions.
"Political leaders, intellectuals, professionals, artists and personalities committed to human rights respectfully request Polay be transferred to another penitentiary. Polay is considered by international public opinion the political prisoner which has spent most years incarcerated in our continent", reads a passage of the letter.
Polay is the leader of MRTA, founded in 1984 and which begun armed operations in 1985, and was inspired in the Marxist oriented guerrillas that flourished in the sixties and seventies in South America. During its 'armed insurgency' actions hundreds of Peruvians were killed and hundreds of millions of dollars were lost.
Its most famous coup was taking of the Japanese embassy in December 1996 with 800 guests celebrating the emperor's birthday.
"Polay has given multiple evidence of support to the Peruvian democracy and has apologized for the irreparable losses caused by his military actions and admits that his group is responsible for 1% of all deaths during the armed conflict of the country", adds the letter.
The guerrilla leader was sentenced to 35 years and has been in jail 19, and the letter requests the "benefits of good conduct" for Polay. The letter also points out that incarceration conditions he is undergoing are only similar to those suffered in Guantanamo, and emphasizes the request is not extensive to Shinning Path's leaders, the even more brutal and bloody Peruvian guerrilla group that ravaged the country in the seventies and eighties.
"The operational methodologies of the two groups are entirely different", points out the letter in reference to MRTA and Shinning Path.
While Shinning Path appealed to "terrorism", MRTA as did the Tupamaros in Uruguay "never appealed to terrorism" but rather "armed insurgency".
"MRTA was involved in actions which are called armed insurgency with the purpose of confronting a constituted government and the objective of changing the country's institutions. But they were not involved in terrorist actions with the purpose of sacrificing human lives and expanding terror. We (Tupamaros) did not do that, not did they (MRTA)", explains the letter.
Further on the letter says that "the former Tupamaro guerrillas in Uruguay were set free and amnestied with the return of democracy and many of them are high officials of the (ruling coalition) Broad Front governments".
There is also a mention of examples such a President Jose Mujica and his Brazilian peer Dilma Rousseff who also had a short lived guerrilla experience when a university student.
On December 1997, fourteen MRTA guerrillas raided the embassy of Japan with 800 guests including diplomats, government officials, high ranking military officers and business leaders. All women were set free the same day but 72 men remained hostages for 125 days. They were liberated in a surprise attack by Peruvian commandos acting from tunnels and the air. One hostage, two commandos and the fourteen guerrillas were killed in the operation.
The commando recovery was a publicity coup for then president Fujimori and received world media coverage for several weeks.