Moody's upgrades Brazil's sovereign credit rating to "Baa2"
Monday, June 20th 2011 - 20:26 UTC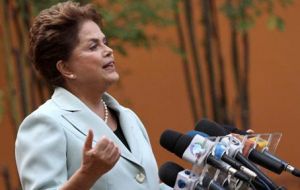 Ratings agency Moody's Investors Service upgraded Brazil's sovereign credit rating on Monday, giving a vote of confidence in the government's efforts to prevent the region's largest economy from overheating.
Moody's lifted Brazil a notch further into investment grade status to "Baa2" and retained its positive outlook. The action underlined the resilience of Brazil's economy when some crisis-hit countries in Europe are suffering downgrades.
Brazilian stocks and the currency gained slightly after Moody's announcement, which followed a one-notch upgrade to BBB by ratings firm Fitch in April. The Standard and Poor's agency in May raised its outlook to positive on its "BBB-" rating, the lowest rung of its investment grade ratings.
"Through a combination of fiscal and monetary measures, the authorities are in the process of defusing conditions that have caused overheating in the economy," Moody's said in a statement. Even if a "bubble-like event" were to occur, it said "its impact on the government's balance sheet is not likely to be substantial."
Brazil's central bank has raised interest rates four times this year and taken other steps to curb strong credit growth in Brazil, whose economy grew at a 7.5% pace last year.
President Dilma Rousseff announced budget cuts of more than 30 billion US dollars to counter a surge in public spending last year that helped stoke inflation to a 6.55% annual rate.
Mauro Leos, Moody's Brazil analyst, said the agency had maintained its positive rating because there was scope for more improvement in the fiscal accounts in the coming months.
"There is still a lot that needs to be done on the Brazil fiscal side. We would like to see ... the fiscal results to be better during booming times," he said.
The announcement comes a day after The Financial Times published a column warning that according to a leading credit rating agency, Experian Latin America, Brazil's consumer lending boom could turn into a credit bubble.
"The level of loans overdue by 90 days has risen rapidly in recent months to 6.1% and is expected to reach 8% by the end of December" said Ricardo Loureiro, president of Experian Latin America.
According to Mr. Loureiro several reasons explain the situation: poor data on which companies are basing their credit decisions; lack of financial education among new consumers who are just entering the market and rising interest rates.
In Brazil consumer defaults remain low by its historical averages of more than 10% and are still considered to be within reasonable levels but they are higher than in most other emerging markets.
The new consumers have begun borrowing to buy homes, cars and household appliances contributing to a near 100% rise in private credit since 2007 according to the IMF.
Banks in Brazil expect double digit increases in credit growth this year in spite of charging an average interest rate of 39%. Brazil's central bank has increased interest rates five times this year to 12.25 per cent, to cool inflation that is exceeding the upper limit of its 6.5 per cent target.