Falklands born James Peck has no plans to give up his British passport
Tuesday, June 21st 2011 - 05:08 UTC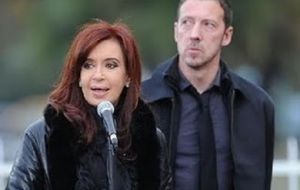 The Falkland Islands born artist James Peck who last week was handed personally by President Cristina Fernandez de Kirchner Argentine citizenship papers in a much publicized event, revealed in an interview with The Times that he had been threatened.
Peck, 42, who became famous, particularly in Buenos Aires with paintings inspired in his child memories of the Falklands conflict in 1982, said that his decision to become an Argentine citizen was interpreted by some Falkland Islanders as "an act of treason" and in that spirit he received messages warning him that "if I return to the Islands, I will be shot".
However Peck regretted the whole situation because he never expected his decision to become an Argentine citizen would turn into a political statement. "I did not give up my British citizenry and I have my British passport. I though about it before going ahead but what's going on is absolutely different, it's as if I had killed somebody".
Further on he said that obtaining Argentine papers was basically because of practical reasons. A year and a half ago he split with his wife but wants to live close to his children in Buenos Aires, but moving around only with a British passport exposed him to "hostility and bureaucratic difficulties".
"I'm not going to leave my children because of the dispute of two governments over the Falklands/Malvinas" said Peck.
James Peck was married to an Argentine woman and moved to Buenos Aires in 2006, returning to the Falklands occasionally. In 2008 he stood for election to the Islands' Legislative Council unsuccessfully.
His father Terry, who died in 2006, was a member of the Falkland Islands Defense Force who during the Falklands War became a hero by acting as a scout for 3rd Battalion, Parachute Regiment and taking part in the fighting for Mount Longdon.
Peck was handed the Argentine citizenship document by the Argentine president on June 14th, which for the Falklands is Liberation Day, the most important date in the Islands calendar. On that day in 1982 the invading Argentine forces surrendered to the British Task Force sent to recover them.