Brazil spots untouched Indian tribe in the Amazon jungle
Wednesday, June 22nd 2011 - 16:21 UTC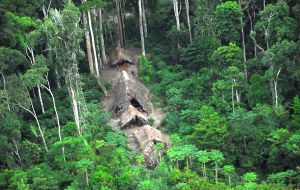 One of Brazil's last untouched Indian tribes has been spotted in a dense region of the Amazon jungle close to the Peruvian border, the National Indian Foundation (FUNAI) reported. A couple of years ago another tribe was spotted in the same area in an Ethno-Environmental Protected Area along the Envira River.
The Indian community was located through an aerial expedition near Vale do Javari, a very secluded area in the depths of the Amazon Jungle. According to the Foundation, the tribe has no contact with modern civilization.
The confirmation of the existence of the tribe has been established after a flight over that particular region. Observers noted the presence of four rudimentary housing constructions, known as malocas, in which over 200 Indians could be living, says FUNAI.
The malocas were located first by satellite what led anthropologists to check the information through a flight over the region. The Foundation has a policy of not maintaining any human contact with untouched tribes. Corn crops, nut and banana threes were also spotted indicating agricultural activity.
According to the anthropologist and FUNAI coordinator Fabricio Amorim, "the Amazon region contains the majority of untouched tribes without any contact with the exterior in the World."
FUNAI estimates that over eight Indian tribes were spotted in the region and other 14 accounts of sightings have been reported. Amorim said those communities are sometimes threatened by"illegal fishing and hunting activities, drug traffickers, illegal crops, mining, missioners and deforestation".