In spite of Asian rust and GSS, Paraguay confirms record crop of soy beans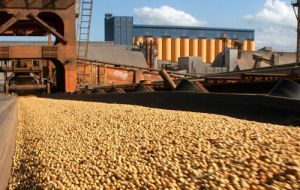 In spite of bouts of Asian rust and the appearance of the 'green stem syndrome', GSS, Paraguay harvested a record 8.3 million tons of soy beans with a yield of 2.917 kilos per hectare and a 7.1% expansion of the area dedicated to the oilseed.
The 8.372.941 tons represent an 11.9% increase over the previous crop of 7.482.835 tons in 2009/10, according to the latest data released by the country's Agriculture Biotechnology Institute, Inbio.
The area planted reached 2.870.539 hectares compared to 2.680.182 hectares the previous season which represents a 7.1% increase.
However the agriculture year was atypical with many unexpected surprises, said Agronomist Luis Cubilla who made the presentation of the latest report.
"Prolonged droughts, temperatures above normal forced a primary missed control in the field with some farmers advancing sowing to try and catch a humid spring".
But farmers who planted at the correct time (October/November) were favoured with good climate conditions and managed yields in the range of 3.500 to 4.000 kilos per hectare. Nevertheless the 2010/2011 crop yield of 2.917 kilos was two kilos above the record 2.915 kilos of 2003.
In spite of the overall positive picture in some areas Asian rust cut yields to below 2.000 kilos per hectare together with the appearance of a new disease, the green stem syndrome which can make yields drop up to 40%.
Cubillas also pointed out that some delayed sowing suffered the consequences of rains in the maturing period, impacting on yield and the quality of the bean.
"In some cases late sowing only harvested 1.200 kilos per hectare", said Cubillas.
Geo-space technology which has begun to be applied Paraguay showed a contraction of agriculture in areas that have been suffering illegal occupations, on occasions by armed radical groups.
In other areas another oil seed, sun flower lost up to 60% of its area to advancing soy.
In effect the sunflower crop for the 2010/2011 totalled 123.009 tons which is 52% less than in the 2009/10 season.
The planted area also contracted to 64.774 hectares from 165.074 hectares.