The volcanic ash cloud fools forecasts: flights to Argentine Patagonia delayed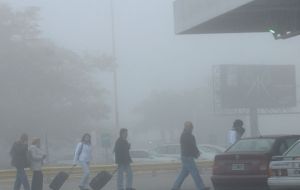 The Puyehue volcano ash cloud has again fooled forecasts and submitted air travellers to further misery. A number of flights to Argentine Patagonia were cancelled Thursday morning due to the shift in the movement of the lingering ash cloud and was predicted to reach Buenos Aires Province over the course of the next few hours.
Thursday morning, LAN Argentina and Aerolíneas cancelled flights to Neuquén and Comodoro Rivadavia, even though it had been announced that services toward the south were back to normal with the mentioned airlines. However, it was also announced that flights to Río Gallegos, Ushuaia and El Calafate this morning were successful.
At present, the activity of the ash cloud, which on Wednesday was affecting the northern part of Patagonia, is expected to reach the province of Buenos Aires and central zones of Argentina, pushed by southern winds, although its density was measured as minimal some days ago.
Due to new wind movement, the ash being produced by the ever erupting Caulle-Puyehue volcano, began affecting the Chilean area less, and returned to engulf itself over neighbouring Argentina's main winter resorts, San Carlos de Bariloche, Villa la Angostura and San Martín de los Andes.
Aerolíneas and Austral airlines had stated that scheduled flights to the south would be running as normal on Thursday from international air terminal Ezeiza and the metropolitan Aeroparque. The destinations included in the announcement were Ushuaia, Río Gallegos and El Calafate.