Malaysia' AirAsia sings 18.5bn USD contract for 200 A320neo
Friday, June 24th 2011 - 22:15 UTC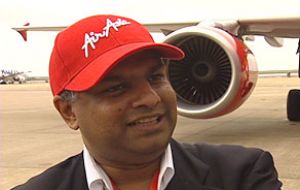 Malaysia's AirAsia signed an 18.5 billion US dollars landmark deal for 200 A320neo Airbus, with an option for another 100, making AirAsia the biggest airline customer for the European corporations for the single-aisle product line worldwide.

The deal was announced at the Paris Air Show and AirAsia group CEO Tan Sri Tony Fernandes said the new aircraft would cater for markets in the Philippines, Indonesia, Thailand, Vietnam and other joint venture initiatives.

"We will still have a lot of growth for our Malaysian operations and there should be no shortage as to where to put the planes" said Tony Fernandes.

The delivery of the 200 planes is expected to happen from 2016 to 2026. AirAsia has the capacity to take up to 500 aircraft.

"With the trajectory of 500 aircrafts, it will make us one of the biggest airlines in the world," he added.

With the deal, the Malaysian low-cost airline is now the world's biggest airline customer for the A320 family with an order for 375 aircraft to date. So far, 89 A320s have been delivered.

The order eclipsed the 16bn USD deal for 180 aircraft from India's Indigo that was sealed on Wednesday.

On the funding, Fernandes said it would not be any different from the others that the company had funded previously.

"We have strong cash-flow. To fund this new order is a function of cash generation and debt financing. By the time these new ones come in, many of the A320s would have been paid. We have been taking 16 to 18 aircraft a year and we were then a smaller company," he said.

"This is an important milestone in our growth, and this solidifies our position as the world's best low-cost airline. The new order is to cater to expansion plans in the Philippines, Vietnam and other parts of Asia. AirAsia has been hugely successful, increasing its annual passenger volume from 200,000 when we launched it as a low-cost airline in 2001 to an estimated 31 million this year," he said in a statement yesterday.

Fernandes said aircraft deal was in line with the company's rapid expansion plans and long-term vision to grow its associates throughout the region. "The Airbus A320neo aircraft will enable savings of approximately 15% in fuel consumption per annum per aircraft," he said.

Tom Enders, president and CEO of France-based Airbus, said that in less than 10 years, AirAsia had established itself as one of the fastest-growing, innovative and most respected airlines in the business.

"This landmark deal is the strongest endorsement yet of our decision to invest in the development of the A320neo and further consolidates the market leading position of the Airbus single-aisle product line," he said.