Upgraded HMS Illustrious is converted to helicopter and commando carrier
Friday, June 24th 2011 - 19:02 UTC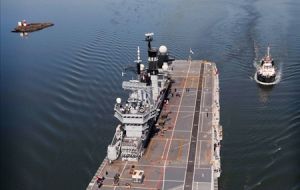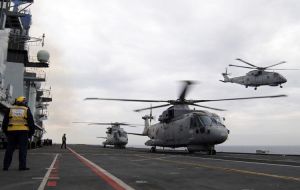 The Royal Navy aircraft carrier HMS Illustrious has begun sea trials following a £40m maintenance and upgrade program. 'Lusty' left Rosyth after 16 months during which she was converted into a helicopter and commando carrier, and should return to the fleet at the end of July.
The ship has been given a new computer and communications system and anti-torpedo system, as well as benefiting from new fuel-efficient paint, a reverse osmosis fresh water system and improved living quarters.
The work was carried out by a partnership of Babcock Marine, the ship's company, MoD and BAE Systems.
HMS Illustrious' Commanding Officer, Captain Jerry Kyd, said: "We are in top condition for the challenges ahead thanks to the hard work of my sailors and the successful partnership that we have had with industry.
"We are now raring to go, ready to take this great ship to sea for trials, and then home to Portsmouth, where we will prepare for her exciting future role."
Captain Graeme Little from the DE&S Capital Ships team, said: "This has been a challenging project delivered to a very high standard by the joint project team and both on time and on budget. We approach her return to the navy with confidence in the significant improvements that have been made."
HMS Illustrious will assume the helicopter and commando carrier role until 2014, when HMS Ocean returns from a planned refit. The ship will then be taken out of service.
In related news the deadline to submit proposals for the future of retired aircraft carrier HMS Ark Royal has been extended due to a high level of interest, Defence Equipment and Support (DE&S) has confirmed.
The ship had been offered for sale on DE&S' edisposals.com website since March after being scrapped following last October's Strategic Defence and Security Review.
The deadline to submit bids and plans for the future of Ark Royal has been extended from 14 June to 6 July.
Proposed uses for Ark Royal so far include sinking the ship for use as a diving wreck, using it as a base for emergency services and Special Forces during the 2012 Olympics or converting it into a commercial heliport. Plans are also said to exist for the ship to be turned into a school and nightclub in China or a casino in Hong Kong.
Sister ship HMS Invincible was sold to Turkish firm Leyal Ship Recycling in February following a similar advertisement.