Chile among lowest for teen births in Latam, but still double the UK
Saturday, June 25th 2011 - 07:18 UTC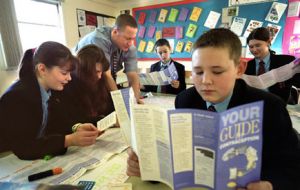 Out of every 1,000 girls aged 15-19 in Chile, 51 become pregnant and give birth to a child, according to the World Health Organization (WHO). These latest figures place Chile's percentage below pregnancy rates for all other South American countries, but still far behind nations outside the region.
Slightly below Chile were Brazil (56 per 1,000), Peru (59) and Uruguay (60). The South American countries with the highest rates of teen births were Ecuador (92), Colombia (96) and Venezuela (101).
Despite its position in the region, Chile's figures are higher than those of most developed countries like the US (41 per 1,000), the UK (26) and Canada (14). WHO advisor César Gattini said that there is no optimal rate, though, since all teen pregnancies carry high risks of illness and death for both mother and child.
Gattini stressed the importance of focusing reduction efforts on teens in Chile's low-socioeconomic classes.
"Teenage pregnancy plays an important role in social inequalities within population structures," he said.
His statements echo findings of a 2004 study showing that the proportion of teenage parents in Santiago's poorest communities is 22 times higher than in the richest communities.
The government announced earlier this year that starting in 2012, sex education will be mandatory in public schools. This initiative represented a strong departure from public policy that is typically aligned with the Catholic Church's advocacy of abstinence until marriage.
With these measures, the Chilean Ministry of Health aims to decrease teen pregnancies 5% (to 24 per 1,000 teen girls) by 2015 and 10% (to 22.9 per 1,000) by 2020.
By Erin Allen – The Santiago Times