Alleged hackers' attack cancels Argentine senate debate on digital duties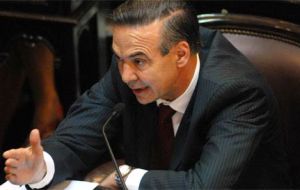 The Argentine Senate had to cancel a debate scheduled for Wednesday to discuss digital duties following an alleged hackers attack. The bill looks to apply a new tax to the manufacturing of digital media players, whose earnings would go to writers and music composers.
The initiative would force manufacturers of CD players, recordable CD's, Blu-ray discs, mp3's, mp4's, mp5's and iPods to pay an additional tax which would go to the Argentine Society of Songwriters and Composers (SADAIC), the General Authors Association (ARGENTORES) and Argentine Film Directors (DAC).
The decision to call off the debate was made after it was announced on the Senate floor that unknown attackers had hacked the Senate website.
After the controversy, the head of the Kirchnerite caucus in the Upper House, Miguel Angel Pichetto made the announcement that they had decided not to debate the bill.
"Since this is an important issue that needs to be widely supported, we will continue this debate in the committee meetings," the Senator added.
Pichetto then blasted the extensive media coverage that the bill had had this week.
"All that remains are the catastrophic headlines in the print media that talk about a tax, which is not true. This is just a rights' compensation" he concluded.