Chilean ski slopes prepare for an exceptional invasion of Brazilian tourists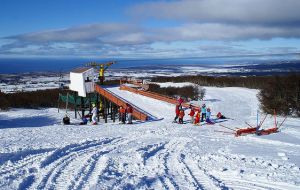 Between 80 and 90% of hotel capacity has already been reserved at Chile's leading ski resorts for the 2011 season. At Valle Nevado, Portillo, and Termas de Chillán - three of Chile's leading ski resorts - reservations are up 10 to 20% compared to 2010, according to the Federation of Tourism Businesses (Fedetur).
About 60 to 70% of those reservations come from Brazilians. Ski resorts have built strong campaigns with Chilean operators, agencies and media to increase visits from Brazil to the country's ski slopes.
Most other reservations have come from Europe, the United States and Canada. Many Chileans are expected to be travelling abroad instead of hitting local ski slopes, taking advantage of the strong Chilean peso.
There are a number of reasons for the increased demand at Chilean ski areas.
2010 was a difficult year for ski tourism business. Snowfall was low because of the La Niña phenomenon, which began in March 2010 and ended earlier this month.
Although this year's ski season is starting late due to low snowfall, rainfall should return to normal by July, the height of the ski season.
Experts at the Meteorological office, however, have predicted winter may run longer this year, allowing Chileans to enjoy their national independence holiday, Sept. 18, on the slopes.
Other distractions in 2010 included the aftermath of the Feb. 27 earthquake, an H1N1 scare, lasting effects of the 2008 global financial crisis and the World Cup.
The Puyehue-Cordón-Caulle volcano eruption has also benefited Chilean skiing this year, according to Fedetur President Eugenio Yunis. Yunis said that the ash from the volcano has primarily affected ski slopes in Argentina, such as Bariloche. As a result, some skiers have shifted from Argentina to Chile.
For those considering reservations, prices have slightly risen over previous years.
Single day adult ski passes this year range from US$40 at Cerro Mirador in Punta Arenas in far southern Chile to US$70 at Valle Nevado, just a short drive from Santiago. Ski passes at El Colorado, La Parva, and Portillo cost US$66; Termas de Chillán, US$60; and Pucón, US$48.
By Benjamin Schneider – The Santiago Times