British Gas doubles oil estimates off the coast of Brazil to 8 million boe
Friday, July 1st 2011 - 06:52 UTC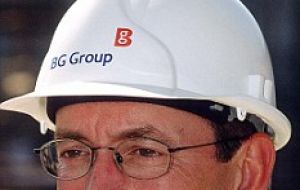 Reserve estimates in the Santos Basin off the coast of Brazil have an upside potential of 8 billion barrels of oil equivalent, an energy company in London said.
BG Group said its analysis of drilling, appraisal and other data suggested there could be 8 billion boe off the Brazilian coast, double its previous estimate announced in February 2010.
"The doubling of our estimated Santos Basin mean reserves and resources is clearly significant and demonstrates the continued rapid evolution of our understanding of these enormous discoveries," BG Group Chief Executive Frank Chapman said in a statement.
The company in April announced testing at its Guara Norte well located off the coast of Brazil recovered light oil. Production potential from the well located in the Santos Basin is estimated at around 50,000 barrels of oil equivalent per day.
Spanish energy company Repsol said earlier this week it was optimistic about the resource potential in the deep waters off the Brazilian coast. In statements made early this year, the company said the waters off the coast of Brazil represent "one of the world's fastest-growing oil and gas reserves".