Peruvian president-elect will meet Obama and Clinton in Washington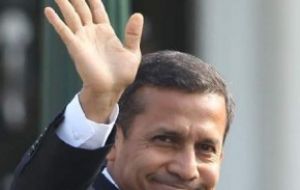 Peruvian president-elect Ollanta Humala will be meeting next Wednesday President Barack Obama and Secretary of State, Hillary Clinton. Humala is expected in Washington on Tuesday.
The meeting between Humala and Obama "has been scheduled for Wednesday afternoon at the White House and with Ms Clinton in the morning at the State Department" said Blanca Rosales spokesperson for the president-elect.
These are to be the first top level contacts with the US government of Humala. The former Army officer has been described as an ultra-nationalist and who in the last ten years changed his admiration for Venezuela's Hugo Chavez to Brazil's former leader Lula da Silva.
It will also be Humala's first trip to the US. In 2006 he had his visa revoked on political grounds since there were serious suspicions that he was involved in his brother Antauro's frustrated military uprising against then President Alejandro Toledo, which surfaced with recent revelations from Wikileaks cables to the State Department.
Humala who strongly moderated his anti US stance since winning the Peruvian presidential run-off June 5, will be travelling with his wife and a group of close aides.
The trip to United States follows Humala's tour of several South American countries: Argentina, Brazil, Chile, Colombia, Ecuador, Paraguay and Uruguay following his victory over conservative Keiko Fujimori.
Humala has a pending trip to Venezuela which has been delayed because of the health problems experienced by President Hugo Chavez.