Brazil banned from selling Israeli-technology UAV to Venezuela
Saturday, July 9th 2011 - 07:13 UTC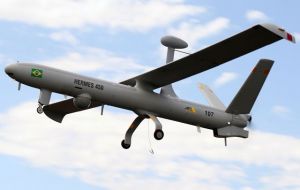 Israel Aerospace Industries signed a joint venture with Brazil's Synergy Group to manufacture Unmanned Air Vehicles (UAV) (drones) to fight drug trafficking in Brazilian borders under the condition that the aircrafts are not sold to Venezuela.
This comes as Venezuela and Israel have come apart after the government of President Chavez showed support for Palestine and attacked Israel for alleged human rights violations.
In January 2009, President Chavez expelled Israeli ambassador Shlomo Cohen and other diplomatic staff, after the Israeli air force launched dozens of air raids on the Hamas-controlled Gaza Strip in December 2008.
Chavez holds that Israel violates international laws by perpetrating state terrorism in Palestine where a human catastrophe has been unfolded.
After relations with the Israeli government were halted, a group of armed men broke in the Tiferet Israel synagogue in Caracas where they damaged sacred texts and wrote anti-Semitic slogans on the walls.
But President Chavez condemned the attack, and Venezuelan Chancellor, Nicolas Maduro, said that Venezuela respects the Jewish people but opposes to the criminals that rule Israel, who have committed what he called a Palestinian holocaust for the past 60 years.
Venezuela and Brazil have kept good relations in recent years, with a number of co-operation agreements on several areas like housing, finance, energy, and border security.
Regardless of the good atmosphere in the region, the Brazilian Air Force has already purchased several UAV to monitor its borders with Bolivia and Paraguay and Brazilian President Dilma Rousseff has stated her government will get another ten.
Israel and Venezuela keep very little business trade, and after two years diplomatic relations between them remain broken. Some analysts suggest that the relations might be restored after the conflict in Gaza is over.