Blackberries to be assembled in Tierra del Fuego with Argentine input
Tuesday, July 19th 2011 - 17:11 UTC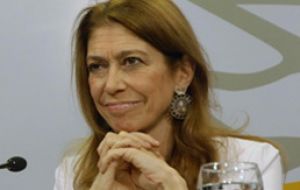 United States Hewlett-Packard and Canada's Research in Motion, (RIM) (Blackberries) have agreed to set up an assembly plant for notebooks and smart-phones in Tierra del Fuego, extreme south of the country.
The companies will begin test production next November and are expected to reach full production a year later. The production program includes a gradual increase of Argentine components in notebooks and smart-phones. In the case of Blackberries the input is scheduled to reach 80%.
The news was confirmed by Industry Secretary Debora Giorgi who said that an initial investment of 12 million US dollars will enable the creation of 250 jobs. HP and RIM will assemble its products in association with the Argentine company Newsan which already works with several international brands such as Sanyo, Noblex and Philco.
The total investment package involves 23 million dollars and an annual production of at least 750.000 units. By December 2012, 50% of notebooks sold in Argentina will be locally manufactured and should reach 70% by December 2013.
HP-RIM production targets are 214.000 units in 2012 equivalent to imports substitutions equivalent to 71 million dollars and 314.000 in 2013, valued at 112.5 million dollars.
The new investment takes advantage of the 2009 bill 26.539 which promotes the manufacture of high technology products in Tierra del Fuego through fiscal incentives. According to Argentine official figures so far 370 million dollars investments have opted for Tierra del Fuego.