Northeast Brazil invests in wind energy, operational by December 2012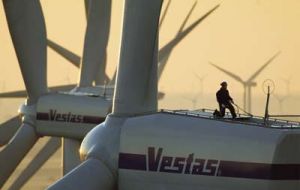 Denmark-based Vestas has secured an order from a consortium created by Brennand Energia and Companhia Hidro Eletrica do Sao Francisco in the north east of Brazil to supply turbines with a total capacity of 90MW for three wind energy projects.
The company will deliver, install and commission ten units of the V90-3MW and 30 units of the V100-2MW turbine for the Sao Pedro do Lago, Pedra Branca and Sete Gameleiras wind farms, all located in the Brazilian state of Bahia.
The contract also includes a VestasOnline Business SCADA system and a ten-year service agreement with the AOM 5000 solution.
Delivery of the turbines is expected to begin in the first half of 2012 and the wind farms are expected to be start commercial operations in December 2012.
AOM 5000 is Vestas new service product optimizing wind power plant output and minimizing customer risk, the company said.