Humala takes office in Peru with a balancing act on promises and the cabinet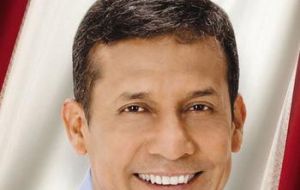 Former nationalist military officer Ollanta Humala will take office next Thursday as the next president of Peru, one of the fastest growing economies in the world but with almost half the population living in poverty.
Humala, 49, starts his five-year term having pledged to work hard to change the daily lives of some 50% of Peru's 28 million poor while ensuring that the rules of the game which have turned the country into a macroeconomic success case are maintained.
In years past, Humala, who has not held elective office, aligned himself rhetorically with Venezuelan President Hugo Chavez, a fierce critic of the United States and in his previous electoral attempt in 2006 his ultra-nationalist speech line scared the private sector and foreign investors.
Now Humala portrays his policy preference as more of the moderate left, saying he is inspired by Brazil's ex-president Lula da Silva who was successful at reducing poverty while fostering economic growth. Further more the electoral campaign brains behind his successful bid this time are attributed to Brazilian experts close to Lula da Silva.
"Right now, the fear (of how he will govern) has decreased. But there is no euphoria. Humala has succeeded at easing fears, but now he has to respond to widespread high public expectations," said political analyst Aldo Panfichi.
"I think he is going to follow the trend of Brazil and also of Uruguay, of running (his campaign) to the left, but then governing more from the centre" to protect the economy, Panfichi said.
The political analyst added it was clear that Chavez's initiatives "have lost some momentum. It is clear that he has not solved Venezuela's problems. Latin American politics are more complex and nuanced than the black or white Chavez painted things".
Humala was elected in a second round run-off in June when he defeated conservative Keiko Fujimori, daughter of Peru's disgraced former president Alberto Fujimori.
He has since met leaders from Brazilian President Dilma Rousseff to US President Barack Obama and Cuban President Raul Castro on a tour to forge ties and reassure investors in Latin America's fastest growing economy.
Humala's election promises centred on a fairer redistribution of the Andean nation's rich mineral deposits and drew support from many poor, indigenous and rural inhabitants of southern regions of Peru.
But he has brought together liberals and moderate leftists for his first cabinet, including leftist writer and sociologist Rafael Roncagliolo as Foreign Minister and millionaire businessman Salomon Lerner as his cabinet chief.
Precisely that dichotomy awaits him on issues such as a windfall tax on wealthy mining companies, which was one of his election promises.
Humala led a failed revolt in 2000 against Alberto Fujimori just before the latter fled into exile, for which he was jailed and then received a congressional pardon.
He has long been plagued by the antics of his family, including radical nationalist outbursts from his father, a 2005 rebellion by one of his brothers, who is now in jail, and a recent visit to Russia by another brother who conducted rogue gas deal talks without his consent.