Argentina manufacturers demand similar 'Brazilian package' to prop industry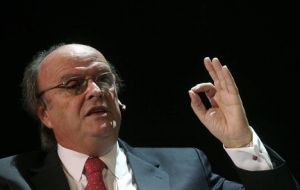 Following on the steps of her Brazilian peer who this week unveiled an ambitious plan to prop industry, Argentine President Cristina Fernandez de Kirchner met with the country's leading business and corporate representatives and promised her government would take all the necessary measures to defend the market from the massive influx of outer region imported goods.
Mrs. Kirchner was accompanied by Economy minister Amado Boudou, Foreign Affairs minister Hector Timerman, Industry Secretary Debora Giorgi and Federal Planning Secretary Julio De Vido. The visitors included Jose Ignacio de Mendiguren, president of the Industrial Union; YPF's Sebastian Eskenazi; Cristiano Rattazzi, Fiat CEO; construction tycoon Jose Cartellone and other important names from banking, hydrocarbons, wind energy, pharmaceutics and investment funds.
Argentine manufacturers requested improved defence for local industry, mainly from Chinese competition, investment incentives and the temporary use of tariffs and semi-tariffs system to contain a flood of cheap imports. But they were also surprised by the extent of some of the Brazilian measures particularly referred to government procurement which favours local suppliers with up to a 25% price plus in tenders.
"This means in practical terms a 25% devaluation for Brazilian manufacturers in government procurement", said de Mendiguren who requested President Cristina Fernandez that the benefit be extended to all Mercosur full members.
Industry Secretary Giorgi said that her office had only received the Brazilian decrees and they were going over them, but also pointed out that in last week's presidential meeting (Ms Fernandez and Dilma Rousseff) in Brasilia, a special Argentine-Brazilian Business Council, CEAB, had been created specifically for the purpose of addressing such issues and help with solutions.
CEAB is made up of business people named on their personal backgrounds and only the Argentine Industrial Union and the Brazilian Industries Central have official representatives.
The original idea was for the CEAB to promote joint-ventures among corporations from both countries with the purpose of exporting to third countries: However the latest events and the international crisis rapidly turned the group into a lobby to avoid surplus production from developed and Asian countries from flooding Mercosur countries.
Brazil's strong support for industry with the equivalent of 16 billion dollars in tax breaks and soft loans follows on two recent events which shocked Brazilian manufacturers: a Chinese company won the tender to supply the Brazilian army with blankets and in the last Carnival festivities most of the fancy, colourful costumes and decorations were Made in China.
So now foreign companies interested in Brazilian government procurement will have to tender at prices 25% below those of their local competitors, and Brazilian export corporations, among other benefits, have been exempt from their matching social security contributions for labour, which is also a long standing demand from Argentine manufacturers.
Finally the head of the Argentine Industrial Union recalled that Brazil is the main market for Argentine manufactured goods and "they have no right to treat us as one more in the bag".