CFK re-election bid remains unscathed in spite of recent electoral defeats, says poll
Thursday, August 4th 2011 - 19:41 UTC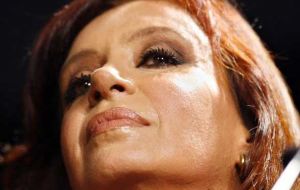 In spite of the latest defeats in the province of Santa Fe and in Buenos Aires City, President Cristina Fernandez, CFK, has sufficient vote intention to ensure her re-election in the first round October 23.
And in the event of a run-off, the incumbent would defeat any of her opponents with 54% of the vote, according to a public opinion poll released this week and published in Ambito Financiero.
The poll by consultants Enrique Zuleta Puceiro OPSM interviewed 1.200 people, over 18 in 25 locations from all over the Argentine territory between July 28 and August first. Results have a global 2.8% plus/minus error margin and 95% confidence factor.
According to the poll CFK leads with 41.6% of vote-intention followed by Ricardo Alfonsín with 20.4%. OPSM has former caretaker president Eduardo Duhalde with 8.2% of vote intention; Governor Hermes Binner, 5.9%; Alberto Rodrígez Saa, 4.8% and Elisa Carrió, 3%. Other hopefuls don't reach 1%. However the undecided remain at 11.3% but projected into votes, CFK would climb to 43% and Alfonsin to 21.4%.
Under Argentine law the winning presidential candidate in the first round must muster 45% of the vote or 40% with a 20 point difference over his runner up.
In the scenario of a run-off, OPSM also has Cristina Fernandez as the winner. Against Alfonsin she would collect 54% of the vote against 28% and with Duhalde, the difference is even greater: 57.1% to 19.2%. With Governor Binner the score would be 55.9% against 21.2%.
Additionally the OPSM public opinion poll shows CFK is considered the candidate with better 'capacity' to rule followed by Alfonsin with 16.2%.
Hopefuls Duhalde and Carrió harvest the largest vote rejection, 59.6% and 59.4%.
The electorate is split almost evenly between 42.9% who prefer to vote for a candidate from the current government next October and 41.8% who prefer an opposition leader.
An overwhelming 83% said that their personal and family situation in the last twelve months improved or is similar, while 78% believe Argentina' situation in 2011 will improve or remain stable. Only 13.3% said the situation will worsen.
Looking ahead to the next five years, 37.2% of interviews said they were 'concerned'; 10% satisfied and 43.4% 'hopeful'.