Brazil, as in 2008, will boost domestic market to cushion impact of global crisis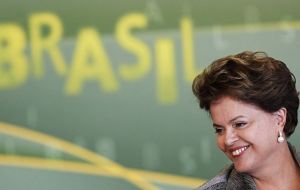 For the second time in a week Brazilian president Dilma Rousseff said the country was prepared for the global financial turbulence, but said a strengthened domestic market was crucial to overcome the tough times ahead.
"We are prepared to face the international financial crisis but the main confrontation to the crisis must be reinforcing our domestic market, creating opportunities here in Brazil, besides exports", said President Rousseff during an official ceremony Wednesday.
Latin America's leading economy, and world's seventh, soon to become the fifth, is on the right track and with the sufficient tools to face the consequences of the European and US crises insisted the Brazilian leader.
Precisely on August 2, when the US debt vote in Congress the Rousseff administration launched the plan "a bigger Brazil" with tax relief for some of the country's industrial sectors most castigated by the strong currency Super Real and a flood of cheap imports.
The plan which also includes soft loans and has been promised to be extended to other vulnerable sectors, contemplates a government renunciation of 16 billion dollars in tax revenue in the next 18 months.
Rousseff said the origin of the crisis can be tracked to the fact that the previous one in 2008 "was not properly addressed and solved by the world's leading economies".
But Brazil will take all the necessary measures to ensure the country's economy can position itself "in the international market with a competitive edge", recalling that back in 2008 Brazil was "the last country to join the global crisis, but the first to come out", when the sub-prime crisis exploded in the US.
"Today we are a strong country even for this crisis that is shaking world markets", said Rousseff and mentioned that Brazil's international reserves stand at 340 billion dollars and the banking system reserves are equivalent to 300 billion dollars, double the 2008 level.
In 2008 and before the full impact of the crisis, then President Lula da Silva went on national television on Christmas to call on Brazilians to continue spending in spite of catastrophic forecasts. Brazilians responded and helped to moderate a strong slowdown of the economy in 2009.
At the time the Brazilian government also called on Congress to help control the budget, limiting requests and the Development bank supplied Brazilian corporations with all the needed liquidity in spite of a tight credit market.
"It is important to ensure fiscal solidity. We currently need a clear harmony between government branches, something which was non existent in the US. From this point of view Brazil was far more mature politically", said Economy minister Mantega addressing the Lower House during the budget debate.