US to ask China why it needs an aircraft carrier and calls for military transparency
Wednesday, August 10th 2011 - 20:32 UTC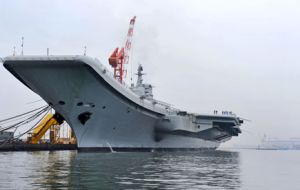 The United States said Wednesday it would like China to explain why it needs an aircraft carrier amid broader US concerns about Beijing's lack of transparency over its military aims.

"We would welcome any kind of explanation that China would like to give for needing this kind of equipment," State Department spokeswoman Victoria Nuland told reporters when asked whether the carrier would raise regional tensions.

"This is part of our larger concern that China is not as transparent as other countries. It's not as transparent as the United States about its military acquisitions, about its military budget," she said.

"And we'd like to have the kind of open, transparent relationship in military-to-military affairs," Nuland said.

"In our military-to-military relations with many countries around the world, we have the kind of bilateral dialogue where we can get quite specific about the equipment that we have and its intended purposes and its intended movements," she said.

But China and the United States are "not at that level of transparency" to which the two nations aspire, Nuland added.

The comments came hours after China's first aircraft carrier embarked on its inaugural sea trial, a move likely to stoke concerns about the nation's military expansion and growing territorial assertiveness.

Beijing only recently confirmed it was revamping an old Soviet ship to be its first carrier and has sought to play down the vessel's capability, saying it will mainly be used for training and "research."

China's official news agency Xinhua said that the carrier will serve mainly as a platform for research, experiment and training.

"It is true that as a key symbol of a powerful naval force, the aircraft carrier is a moving battle platform that can either be used for offence or defence. But their use depends fundamentally on a country's defence policy and military strategy", said Xinhua.

As a matter of fact, it is noteworthy that China was the only permanent UN Security Council member state that did not have an aircraft carrier and in Asia alone, "India and Thailand already have aircraft carriers".

Xinhua adds that China needs to defend its long coastline and enormous maritime interests are basically behind the country's resolve to develop aircraft carriers which also entail a lesson from modern history.

Between 1840 and 1949, China was attacked from the sea more than 100 times and was forced to sign a string of unfair treaties because of maritime defence failures. In the 21st century the struggle for maritime interests is becoming increasingly intense as the whole world comes to realize that seas have become a key space for expansion of national interests and maritime security have become an important sphere of "national security".

Therefore, building a strong navy that is commensurate with China's rising status is a necessary step and an inevitable choice for the country to safeguard its increasingly globalized national interests.

China has told the world repeatedly that it will never seek hegemony, no matter how developed it is.

China has been devoted to world peace and will remain a force for peace. The Chinese navy had by June escorted 3,953 ships of all flags through the Gulf of Aden and waters off Somalia, among which 47% were foreign commercial ships.

"Even if China developed an aircraft carrier with full combat capacity in the future, it will not pose any threat to other countries. Instead China as a strong military power means that China could shoulder more responsibilities for world peace".