Landslide victory for CFK with more votes than her main rivals together
Monday, August 15th 2011 - 04:55 UTC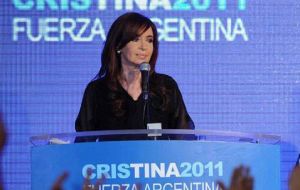 Argentine President Cristina Fernandez de Kirchner, CFK, won a landslide support Sunday at the unified simultaneous national primaries having collected more votes than the rest of the presidential candidates for next October 23.
As the first official reports in Sunday's nationwide primary elections were being slowly announced, and with only 41% of the votes tallied, President Cristina Fernández was leading 50.05% of the national vote.
She was followed by a distant UCR candidate lawmaker Ricardo Alfonsín with 12.94% of the vote and former caretaker president Eduardo Duhalde third with 12.05%. Santa Fe governor Hermes Binner running for the Socialist Broad Front was just above 10%.
Interior Minister Florencio Randazzo announced that over 75% of the registered voters took part in these primary elections, the first time they are held simultaneously and with voting mandatory.
No major inconveniences were registered during the day, although some people claimed that several polling stations lacked specific ballots.
The primaries were celebrated as 28.840.339 electors voted to choose candidacies for public office, locally and nationally, which will enable parties and coalitions to run on October's 23rd general elections.
Voters cast their votes to elect President and Vice President (across the country), governors (in four provinces, including crucial Buenos Aires province), 24 senators (Buenos Aires, Formosa, Jujuy, La Rioja, Misiones, San Juan, San Luis and Santa Cruz provinces), 130 lawmakers (Buenos Aires City and all provinces), mayors and councilmen.
Elections were held simultaneously in Argentina's 24 provinces, open to all potential candidates regardless of party affiliation. In order to be approved for October's elections, candidates must obtain a minimal of 1.5% of the valid votes.
Cristina Fernandez, who succeeded her husband Nestor Kirchner in 2007, consolidated her support by presiding over strong economic growth since 2008, giving monthly payments to poor families who keep their children in school and raising pensions.
"This is recognition of all the work, the effort, everything that has been accomplished in the past eight years, but also for what we still need to do" Mrs. Kirchner, 58, told supporters Sunday night in Buenos Aires. "My only promise is to keep working for everything we still need".
Opposition leaders have less than 10 weeks to regroup ahead of the Oct. 23 presidential election. Under Argentine law, a candidate needs to win 45% of the votes in the presidential race, or 40% with a 10 percentage-point lead over the second-place finisher, to avoid a Nov. 20 runoff.