Record prices for Uruguayan beef but insufficient cattle in 2011/2012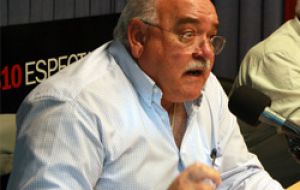 Uruguay's beef industry is short of cattle and the annual slaughter for 2011 is expected to be the lowest in a decade, similar to ten years ago when the foot and mouth disease crisis that isolated the country from world markets.
The Uruguayan beef packing industry, CIF, says the situation is a question of supply since international prices are strong and so are signals from world markets: the average ton of exported Uruguayan beef in July was selling at 3.941 dollars, up 37.4% from a year ago.
In 2002 because of FMD the slaughtering of cattle in Uruguay slumped since demand was limited to the home market with virtually no exports. According to official data in 2002 the number of cattle slaughtered was 1.641.855 and most probably this year the number will be below two million head. In the first half of the year the number was down 15% compared to similar six months of 2010.
In the last ten years the highest slaughter of cattle was in 2006 with 2.588.538 head and even in the crisis year of 2008, the number was 2.213.277.
"We are most concerned with the lack of cattle supply", said the chairman of CIF, Daniel Beleratti. "Some believe it is because of the serious 2009 drought, others to live cattle sales, but the real fact is that the volume of beef exported by Uruguay is falling, abattoirs are temporary closing and that is not a good signal for an industry that was planning since 2005 for an annual slaughtering of three million head of cattle. Now we are heading the opposite way", said Beleratti.
"Fortunately international beef prices have kept rising, there was a slight interruption during the 2008 crisis, but since then they have kept their bullish tendency. Currently we have historically record prices for Uruguayan beef", said CIF chairman. "Fewer cattle with such prices seem a contradiction".
And prospects are not better: in 2012 the supply of cattle ready for slaughtering is also expected to remain below normal levels.
"Taking into account calving of recent years and all the other subjective facts we currently have, we are under the impression that next year (2012) an estimated two million head of cattle will reach the abattoirs", estimated Beleratti.
In support of Beleratti's analysis Luis Muñoz, head of the meat workers union said that many export abattoirs are working less days a week with many having been sent to unemployment insurance. "On average we're making 30% less per month than in previous years", underlined Muñoz.
So far this year Uruguay exported 236.902 tons of meat equivalent to 935 million dollars of which 81% was beef; 3.5%, lamb; 2.07%, horse meat and 1.05% chicken.
Beef exports actually increased 8% in value (759 million dollars) but were down 21% in volume (192.289 tons). Russia absorbed most tonnage of Uruguay's beef, 34%; followed by the European Union, 19%.