In spite of global crisis, leading Spanish bank optimistic about Latam outlook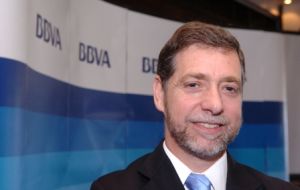 In spite of world turbulences the Latin America economy will expand 4.8% in 2011 and 4% in 2012 and 2013 boosted by the high price for commodities and strong domestic demand, according to the Spanish bank BBVA, on its "Latinamerica report".
BBVA chief economist for Latin America, Joaquin Vial said that global financial instability because of the Euro debt crisis and US slower growth, finds Latin America with a good standing which will enable her to resist a possible further deterioration of the global scenario in coming years.
"Until 2008 as a bank we knew Latin America was doing the right things, but the business world was not fully aware and that crisis showed the region was able to survive the global crisis. That is why the current impact will be more contained for Latam. Markets have perceived that plus-strength enjoyed by the continent", said Vial.
The top banker pointed out he was sceptic about a new global downfall as happened in 2009, although he admitted "high volatility and a greater aversion to risk" could harm consumption and investment in emerging economies.
"We can expect turbulences in the US because of the 2012 presidential campaign, but not a crisis as in 2009. We can feel quite safe", said Vial who nevertheless warned that instability in the Euro zone and in the US could cost the region between 1% and 1.5% of GDP growth next year.
Vial said inflation in the continent was tending to "stabilize" and domestic demand was moderating particularly in Brazil, Chile and Peru, which have seen a significant contraction in consumer spending.
The banker said that domestic demand growth in Brazil is expected to drop from 10.3% in 2010 to 4.8% this year while in Chile consumer spending expansion will fall from 16.4% last year to 9.1% in 2011 and similarly in Peru, from 12.8% to 7.4%.
As to the reasons for the contraction in domestic demand Vial mentioned more cautious consumers as they are aware of what is happening in the rest of the world; a gradual increase in interest rates and successive effective measures to counter credit expansion and contain government spending, something which "Brazil and Chile addressed explicitly".
In a special mention of Argentina, BBVA forecasts that domestic demand will continue to expand at two digits rate in the first three quarters and in Colombia there is the risk of the need to "force" an adjustment of monetary policy.
Concluding and overall "we are optimistic about the region's growth possibilities, of sustaining that growth in the next years and if adjustments are needed, which is possible the situation is manageable".
Furthermore Vial said that Latin America this time will probably be part of the solution to the problems rather than contributing to the global crisis.
BBVA and Santander are two of the leading Spanish banks in Latin America and the region has helped them both to counter heavy losses in Europe.