Humala becomes Wall Street 'darling boy', and S&P raises Peru's foreign debt rating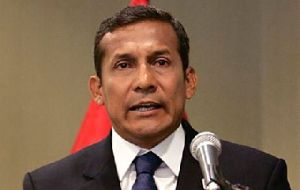 Peru had its foreign debt rating raised one level by Standard & Poor's, which said it expects recently elected President Ollanta Humala to continue policies that support the country's economic expansion.
S&P raised Peru to BBB, the second-lowest investment grade, from BBB-. The outlook is stable. S&P also lifted Paraguay's rating to BB-, three steps below investment grade, from B+, because an agreement with Brazil to boost its revenue share from a hydroelectric power plant has improved the country's "fiscal flexibility".
Humala, who took office last month, has signalled "policy continuity" by reappointing "respected" central bank President Julio Velarde and picking Luis Miguel Castilla, a Harvard University-trained economist, as finance minister, S&P said.
"We expect that broad fiscal and monetary policy continuity under Peruvian President Ollanta Humala new government will support stronger economic policy flexibility and growth," S&P said.
Peru's economic growth averaged 7.2% in the past five years as policy makers tapped into a global mining boom while curbing inflation and the budget deficit.
During the presidential campaign and run off, as it became evident that candidate Humala was to be the successor of market-friendly Alan Garcia, the Lima stock exchange plunged, investment projects froze and Peruvian bonds rated almost as junk.
However just a month later (Humala took office July 28) the man feared as extreme nationalist, populist, interventionist, friend of Venezuela's Chavez and with plans to take over the mining industry turned out to be fiscally prudent, politically rational, an admirer of Lula da Silva and Brazil's Workers' party, a declared 'strategic' partner of Washington, who with a few weeks in office managed that the mining industry willingly accepted to pay more taxes on their windfall earnings.