Iran becomes Brazil's biggest buyer of beef eclipsing Russia
Wednesday, September 7th 2011 - 11:21 UTC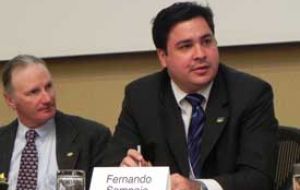 Iran has eclipsed Russia to become the biggest buyer of beef from Brazil, the world's top exporter of the meat, strengthening the countries' controversial ties.
Brazil sold 61.7 million dollar of beef to Iran in August, making the Middle Eastern country the biggest market for Brazil's key beef exports for the first time on record, the Association of Brazilian Beef Exporters (Abiec) told the Financial Times.
"Iran has become a very important commercial partner for Brazil; we've become much closer over the last few years" said Fernando Sampaio, Abiec's executive director.
After former president Lula da Silva angered Washington last year by holding talks with Mahmoud Ahmadi-Nejad over the Iranian nuclear program, President Dilma Rousseff vowed to take a tougher stance on Iran, particularly on human rights abuses.
However, Ms Rousseff, a former leftist militant and victim of torture herself during Brazil's dictatorship, has largely disappointed activists for her non-interventionist approach and for keeping silent during the recent Arab uprisings.
Like other emerging markets, Brazil is torn between adopting a stronger foreign policy and protecting lucrative commercial ties which could help consolidate the Latin American country's powerful new position in the global economy.
Brazil's beef exports to Iran have increased more than 300-fold in the past decade as fast population growth and greater political stability in the country fuelled demand for commodities.
Although Brazil also exports vast quantities of sugar and soybeans to Iran, beef is the principal export, making up about 37% of the value of total shipments to the country in the first six months of 2011, according to data from Brazil's industry and trade ministry.
"Iran is a particularly good market for Brazil because it buys the more expensive cuts. It also always pays on time," said Abiec's Mr Sampaio.
Russia ranked as Brazil's biggest export market for beef in 2010, but orders have dropped sharply over recent months as a result of its import bans on Brazilian beef due to alleged safety concerns, allowing Iran to take the top spot.
Russia banned imports from 85 Brazilian beef plants in June, complaining of poor farming standards. However, some industry groups claim the embargo is just a way to blackmail Brazil into backing Russia's entrance into the World Trade Organisation.
After reaching 1.07 billion dollars in 2010, Brazilian beef exports to Russia have fallen sharply over recent months and totalled only 52.2 million last month.
Brazil has increasingly had to turn to emerging markets such as Iran and Russia to buy its exports, as growth slows across the developed world.
The European Union was Brazil's biggest customer for beef for decades but after the global financial crisis hit in 2008, exports of the meat to Europe fell sharply and reached only 713.3 million last year. (meattradenewsdaily.co.uk)