China and UK to develop offshore trading hub for the Yuan in London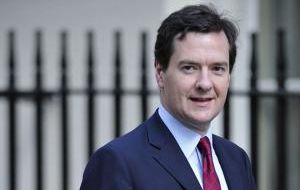 China and the UK are to develop an offshore trading hub for the Yuan based in London. UK Chancellor George Osborne confirmed the agreement after meeting with Chinese vice-premier Wang Qishan in London.
"We agreed to collaborate on the development of Renminbi-denominated financial products and services in London," he said.
Trading in the Yuan is gradually being liberalised.
As the Yuan has slowly been appreciating and becoming more flexible, Hong Kong has been the only place that China has allowed as a centre for deposits in the Chinese currency.
London is the largest foreign-exchange trading centre in the world.
Mr Osborne said that the UK represented an "attractive investment opportunity for Chinese investors and a gateway for further investment in Europe".
The talks also involved discussion of investment in UK infrastructure, such as the legacy projects following next year's Olympics.
China and the UK reaffirmed their commitment to the target of doubling trade to 100 billion dollars by 2015.